Robotic Process Automation with Ranorex Studio
Automate repetitive business processes and unleash productivity with low-code/no-code automation tools from Ranorex.
What is RPA? Robotic Process Automation
Build and deploy software robots to perform repetitive tasks 24/7, freeing your staff for more creative & productive work.
RPA is short for Robotic Process Automation. An RPA solution transfers repetitive manual tasks from human workers to "digital workers" or "software robots", also called "bots."
A software robot can do many of the things that people can do: identify the content of a computer application or website, complete keystrokes, identify and extract data, and perform actions such as printing or sending emails. Bots reduce the chance for manual error in data entry and other repetitive tasks. Best of all, bots work 24/7, helping organizations manage workload peaks and make the most efficient use of their resources. 
How RPA Supports Your Digital Transformation
Support your critical business processes with automation to expedite workflows, optimize resources, and reduce errors.
Organizations today face multiple challenges, including global competition, stringent compliance requirements, chronic worker shortages combined with high turnover rates, a need for flexible work arrangements including the option to work remotely, high customer expectations, and more. In this environment, organizations are turning to digital transformation to not only increase efficiency, but also increase customer satisfaction and reduce risk.
Robotic Process Automation is a key element in any digital transformation. According to the 2017 Deloitte Global RPA survey of 400 organizations, 53% of respondents were already moving toward RPA. That number is expected to increase to 72% in the next two years, with "near-universal adoption within the next 5 years."
In fact, in 2020 Deloitte reported that RPA was the number one "intelligent automation strategy" among respondents, with the number implementing had reached 78%, with another 16% planning to adopt within three years. Only 6% had no current plans.
In 2021, Pulse Research surveyed 246 technology leaders to learn which RPA initiatives had delivered the best ROI. User provisioning was top response at 26%, followed by RPA for customer service and support at 19%, and backup and restoration at 17%.
Watch our on-demand webinar: Using Ranorex Studio for Robotic Process Automation
In this 30-minute webinar, you'll see a practical example of how to automate repetitive business tasks, reducing manual errors and boosting productivity.
Introduction to robotic process automation (RPA)
RPA use cases & challenges
Mapping test automation terms to RPA terms
RPA demonstration followed by Q&A
How to use Ranorex Studio for RPA
Ranorex Studio's easy-to-use test automation tools can be easily adapted for Robotic Process Automation. Build and deploy software robots to perform repetitive tasks 24/7. Execute tasks in parallel, on physical or virtual machines. Ranorex is especially useful for automating workflows for legacy applications that may not have an API, or for third-party applications. 
Because Ranorex Studio is a test automation tool, the terms used in the interface are test-oriented. To use Ranorex Studio for RPA, all that is necessary is to create a test case (i.e., a bot) without a validation step. Your test case/bots will be organized into a test suite (i.e., a job).
For more information, refer to the list of the key differences in terminology:
| | |
| --- | --- |
| Automated Testing Terms | RPA Terms |
| Test step | Step |
| Test case | Bot |
| Test suite | Job |
| Test run | Run |
| Test report | Run report |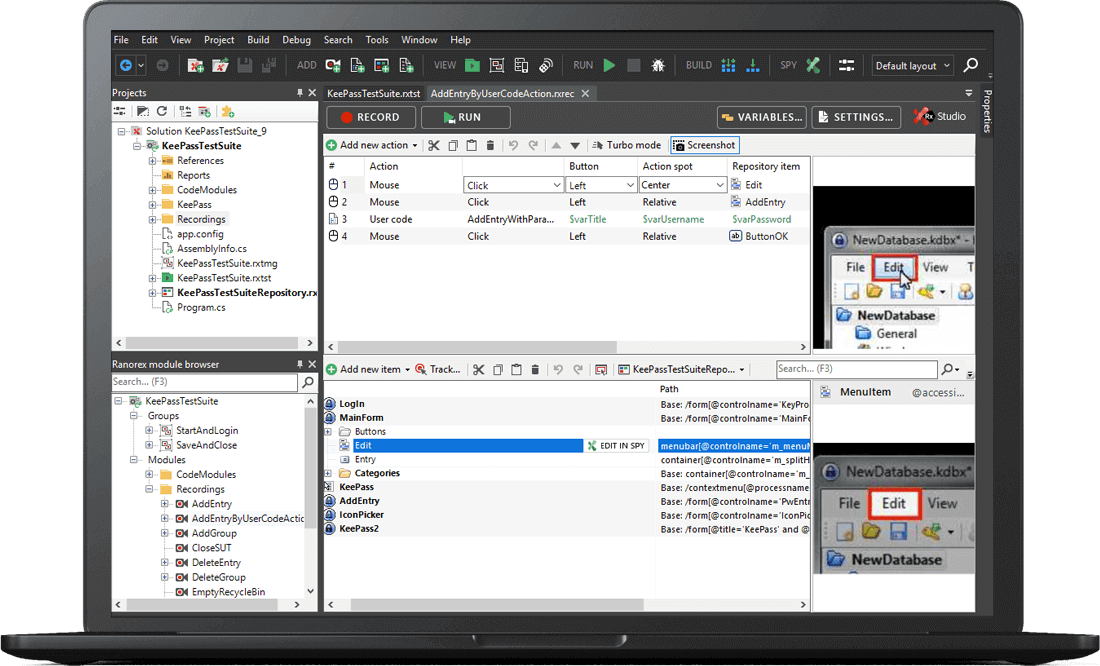 Real-world use cases from our customers
Self-running demos
Using a kiosk to demo your app at an exposition, school, or info both? Use Ranorex  Studio to automate the demo. Take it a step further by incorporating a form or buttons to make the demo responsive.
Error-free data input
Eliminate manual effort and reduce errors. Use Ranorex Studio to enter data into your application using a Microsoft Excel file, CSV, or SQL database as a source.
Automated tutorials
Onboard customers or new employees with automated tutorials. Use the Ranorex Recorder to capture and replay the steps of each task in your target application.
Frequently-Asked Questions (RPA FAQs)
Can a non-technical user create process automation with Ranorex?
You can create create automation in Ranorex Studio without programming, by recording your actions as you go through the steps of your process. Learn about using the Ranorex Recorder to automate actions in our user guide.
Does Ranorex support the use of AI algorithms to make smarter automations, even when buttons or UI elements change slightly?
Yes, Ranorex uses a machine-trained algorithm as one of its approaches to handling dynamic elements. You can also add weights to certain attributes to counter dynamic changes. Since Ranorex is an object-oriented tool, slight changes to the UI typically do not interfere with test playback.
Is it possible to scrape a value off of a web page or application screen, and then use that result in a task?
Yes, you can grab dynamic values using the Get Value smart action or method.
Can you perform tasks in a loop?
Yes, with Ranorex you can add iterations to a test case (bot) so it executes as many times as you need.
Can you create logic to branch to a different script based on an input value?
Yes, Ranorex has the ability to use conditional statements to determine if certain actions should occur. Learn more about conditions and rules in our user guide.
How do I create a job run report?
Every job run in Ranorex Studio automatically produces a report. The report details the entire job run from beginning to start, including whether bots succeeded, failed, or were blocked; what errors and warnings were raised; the iterations of a given container; and so on. You can customize reports to change what information is displayed or add your own logos, for example. You can also export reports to a PDF. For details on customizing a report, refer to our user guide.
What's the best way to handle scheduling?
You can integrate Ranorex into a CI pipeline that runs on a schedule, or use a batch file with Windows Task Scheduler to schedule times to execute your tasks.
Do I need a special license to use Ranorex Studio for RPA?
No special or "extra" license is required to use Ranorex Studio for process automation. You'll need a Ranorex Studio license or an Enterprise license to create and execute your automation. To run tests on a remote machine or in a virtual environment, you'll also need a runtime license. Refer to our pricing page or contact our sales team for more information.
We deliver outstanding customer satisfaction
Reviews from satisfied users help make Ranorex Studio a leader in the G2 Grid for Test Automation Software, year after year.
The G2 Grid for Test Automation Software identifies leading solutions based on market presence and customer satisfaction. To determine market presence, G2 uses a combination of 15 metrics about a vendor and product such as the number of employees, web and social presence, and growth. The customer satisfaction rating is based on an analysis of reviews submitted by real, verified users. Our high customer satisfaction rating contributes to Ranorex Studio's continued position as a leader in the G2 Grid. Ranorex Studio also receives top marks in areas such as ROI, ease of use, and ease of implementation. For more independently-verified research and reviews, visit the Ranorex Studio page at G2 Crowd,TechValidate, or Capterra.
Trusted by over 4000 companies worldwide






Start automating with Ranorex Studio today
Get all of this with your free trial:
Record-and-replay: robust capabilities to build tests without programming.
Full development environment: script in C# or VB.NET
All supported platforms: run tests on Windows desktop, all popular Web browsers, and Android or iOS devices, including real devices and simulators/emulators
Advanced functionality: Ranorex Spy for machine-trained object detection, Ranorex Coach for test healing, video reporting of test execution, PDF validation, and more.
Customizable test results reporting: generate HTML, PDF, or JUnit-compatible reports; then send test reports as email attachments.
Data-driven testing: pull test data from CSV or Excel files, or a SQL database
Flexible API interface: easily add Ranorex Studio tests to your CI/CD process by integrating with Jenkins, Travis CI, Git, and more.
Built-in integration with Jira and TestRail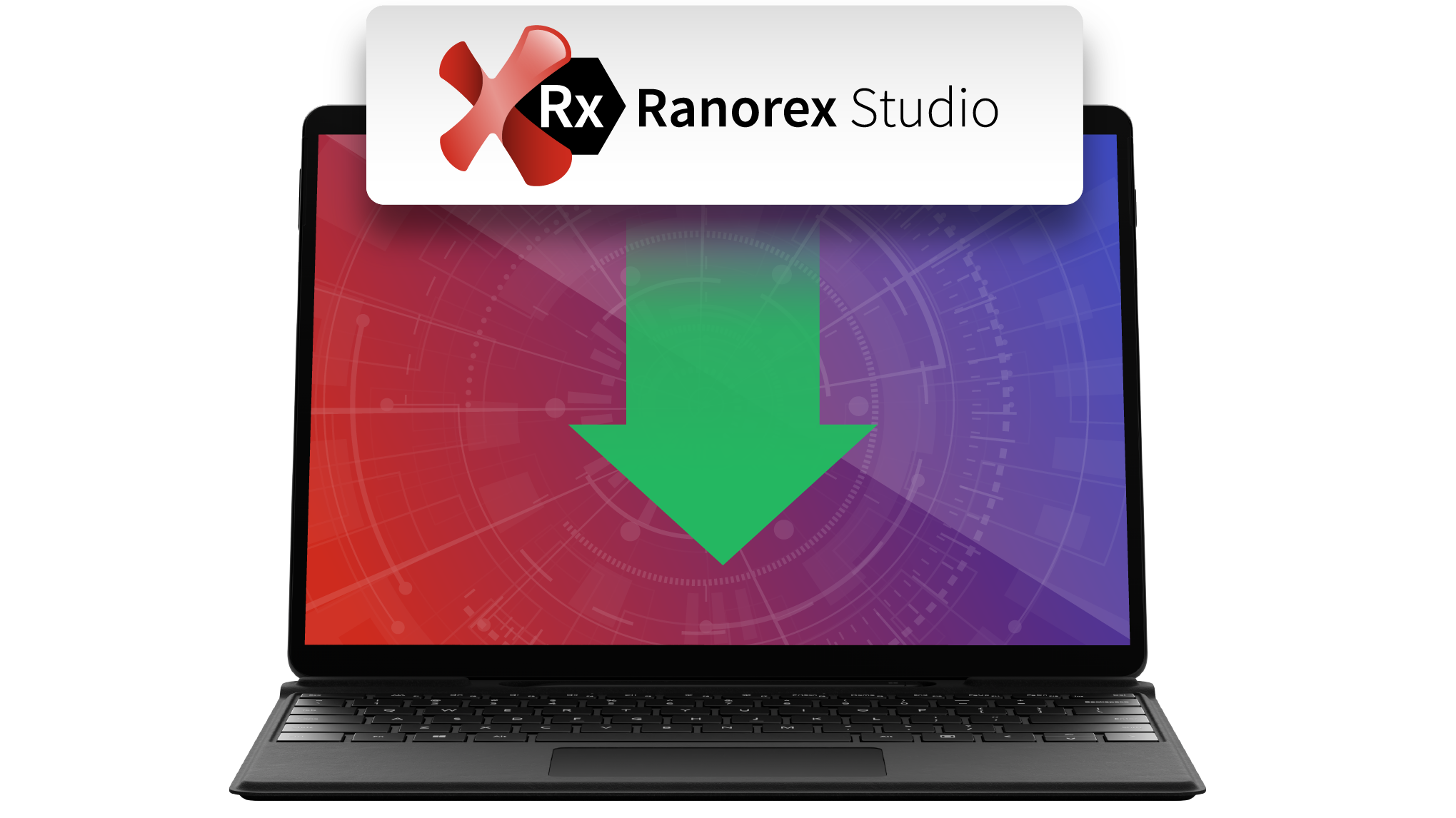 Accelerate your software testing with Ranorex Studio. Our built-in tutorials and sample projects will help you be productive right away. Or, if you're ready, you can review our pricing and buy now.