Licensing
All-inclusive licenses deliver features and value for outstanding ROI.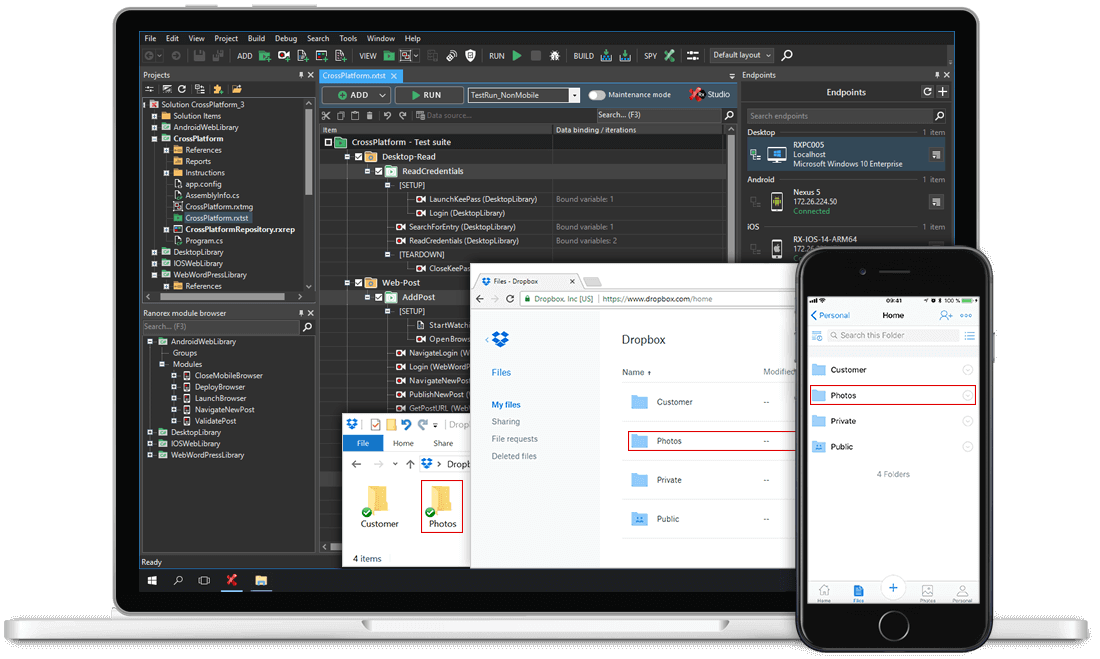 Studio
Enterprise
Runtime

- Create / Edit / Execute Tests
- Single Station License
- Bound to one physical machine
- Standalone IDE
- Visual Studio Plug-In
- Ranorex Driver
- Ranorex API

- Create / Edit / Execute Tests
- Floating License
- Physical and virtual machines
- Standalone IDE
- Visual Studio Plug-In
- Ranorex Driver
- Ranorex API

- Execute Tests
- Floating License
- Physical and virtual machines
* Must own at least one Studio or Enterprise license for test creation
* All features are execution only

FEATURES
License Shared Among Multiple Machines
Runs on Virtual Machine
Runs on Physical Machine
Automated Testing for Web
Automated Testing for Desktop

(Winforms, WPF)

Automated Testing for Mobile

(iOS, Android)

Testing of SaaS tools

(Salesforce, Workday, Oracle, SAP, Hubspot, etc)

Cross Browser Testing
Continuous Testing for DevOps
Parallel Testing
Remote Execution
Test Scheduler
Realtime & Prompted Reporting
Data-driven Testing
Keyword-Driven Testing
API Testing
Behavior-driven Development (BDD)
Robotic Process Automation (RPA)
Coded Automation

(C#, Java, Python, Ruby, JavaScript, VB.NET)

Codeless Automation
Selenium
Visual Test Recorder
Shared Object Repository
Modular Reusable Test Scripts
Object-based Recognition
Image-based Recognition
Coordinate-based Recognition
Machine-trained Algorithm
Intelligent Self Healing
Conditions & Loops
Data Binding
Integrations
Source Control

(SVN, TFS, Git, etc)

Build & Release Management (CI/CD)

(TFS, Jenkins, Hudson, Bamboo, TeamCity, CirceCI, TravisCI, etc)

Test Infrastructure & Environment

(Selenium Grid, BrowserStack, Sauce Labs, etc)

Test Management

(TestRail, AzureDevOps Test Plan, HP ALM, MS Test Manager, TFS, Jira, TestShell, TestBench, etc)

Issue & Defect Management

(Jira, TFS, Bugzilla, etc)

Pricing
Contact Sales
Contact Sales
Contact Sales
Start Selenium Testing with Ranorex Today
Selenium WebDriver can be a powerful tool for developers who want the convenience of Ranorex Studio with the features of Selenium. To test out Selenium WebDriver for yourself and see how Ranorex Studio can transform your automated testing, contact us for your free trial today.
Ranorex is a very specific solution, with targeted features. Support has been exemplary and the product itself is easy to use and intuitive.
Melissa Gordon, Chief Operating Officer, Katana Software, Inc.
Source: TechValidate
Ranorex Premium Support delivers results. 4.5/5 Stars
TechValidate Survey of Ranorex Premium Support Customers
Source: TechValidate
Ranorex Studio delivers increased productivity. 88% of surveyed customers saw a 20-40% increase in productivity.
TechValidate survey of Ranorex Studio customers
Source: TechValidate
Frequently Asked Questions
Do I need a runtime license?
A Studio license allows you to create tests for desktop, web, and mobile applications and execute tests on a single concurrent endpoint. A runtime license allows you to execute tests on additional concurrent endpoints, using a tool such as our Ranorex Remote Agent, Ranorex Parallel Runner, or Selenium WebDriver integration. With a runtime license, you can also execute tests on a workstation or server where Ranorex Studio is not installed, by running the test suite as a .exe file from the command line.
Which licenses do I need to use the Selenium WebDriver integration?
The Selenium WebDriver integration in Ranorex Studio enables you to create tests in Ranorex Studio and run them on WebDriver endpoints. You will need at least one Ranorex Studio license to create a test in Ranorex Studio and run it on a single concurrent WebDriver endpoint. You will need one Ranorex Runtime License per additional concurrent endpoint.
Is remote test execution possible with Ranorex Studio?
Yes. You can simultaneously execute multiple automated tests in different environments on Ranorex Agents using Ranorex Remote. This feature enables you to deploy tests to Ranorex Agents for remote test execution. You need a Ranorex Runtime License to set up a Ranorex Agent and use Ranorex Remote.
When does my maintenance and support period start?
When purchasing a new license, you'll automatically have access to 12 months of software maintenance and professional support. If you've purchased a Renewal, your renewed access to maintenance and support will commence on the date your previous access expires.
How do I know when my access to maintenance and support services ends?
You can find the expiration date of your maintenance and support services on the start page of Ranorex Studio.
What happens if I don't extend my maintenance and support period?
If you don't extend your maintenance and support period within the given time, your access to software updates and technical support will expire. If you're interested in maintenance and support services, please contact us to receive an individual offer.
Can I purchase a renewal if I'm not yet a Ranorex customer?
No. A renewal is for existing Ranorex customers only. 12 months of software maintenance and email support are included with the purchase of a new license. Maintenance and support services must be renewed annually. A renewal will give you access to another 12 months of software maintenance and professional support. For any questions about Ranorex or to request a customized quote, please contact us.