Automate without limits using Ranorex Driver
Ranorex Driver expands the possibilities of test automation. It's an ideal solution for test automation professionals who already have Selenium Webdriver tests and want an alternative framework. It's also great for those who automate using languages like Java, PHP and Python but need the object recognition of Ranorex Spy and a repository for object management. 
Download a free trial of Ranorex Studio to explore all the automation capabilities of Ranorex Driver.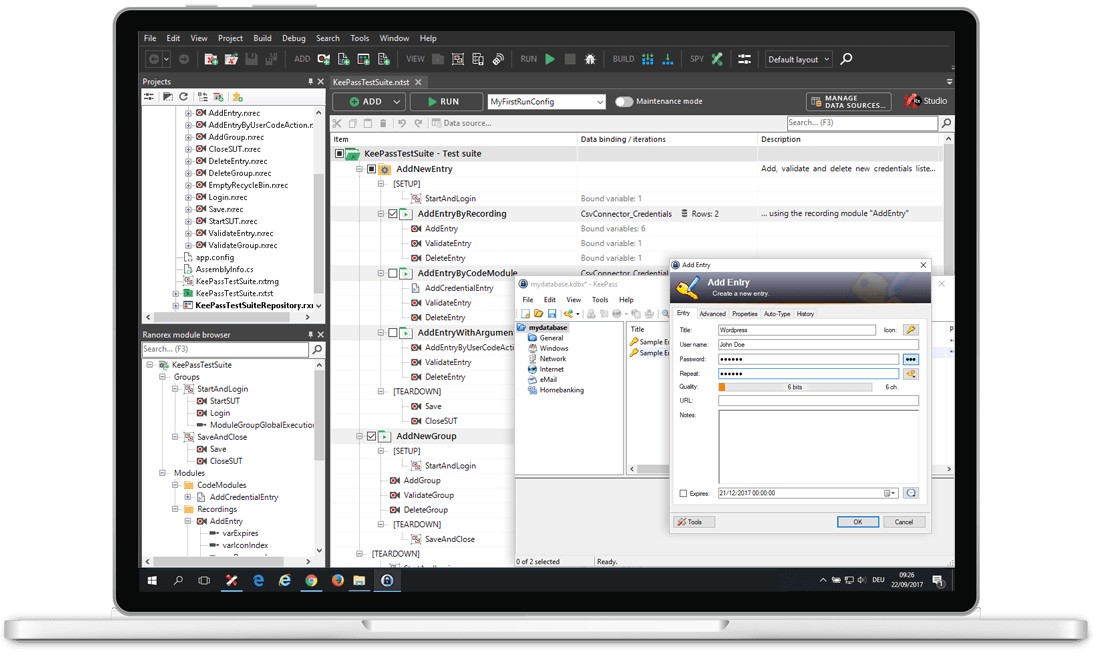 Desktop, web or mobile
Broad technology support enables test automation for any platform.
Robust UI object recognition
Speed development and reduce test maintenance with robust, reliable object identification.
Low cost of maintenance
Abstraction layers enhance collaboration and make tests more maintainable. 
Python, Java & more
Code in languages like Python, PHP and Java, in addition to C# and VB.NET.
Powerful automation for desktop, web, or mobile
From legacy applications to the latest mobile technologies: Ranorex delivers a complete set of automation tools.  
Ranorex Studio's comprehensive automation suite includes everything testers need to build robust, reliable automated tests: easy no-code/low-code tools, a full IDE for C# and VB.NET, powerful object recognition, automatic reports, and so much more. With Ranorex Driver, you can extend the power of Ranorex to tests written using the Selenium framework. 
Ranorex Driver is an installable app that runs as a service on your machine. It receives Selenium WebDriver 3 requests and interprets them to automate desktop applications. What this means for you is that you can automate desktop tests in any programming language: Java, PHP, Python, etc., and use your existing Selenium framework tests with Ranorex.
For web and mobile applications, you get the complete power of Ranorex Studio. Use our easy capture-and-replay tool to build tests, or automate them using C# or VB.NET. Execute data-driven tests against a SQL Server data source, CSV file or internal data table. Run Ranorex Studio tests on multiple endpoints in parallel using the Ranorex Parallel Runner, or distribute them on a Selenium grid.
In this short clip, see how Ranorex Spy identifies an UI object for use in a test automated with Ranorex Driver. To see the full demonstration, watch the on-demand webinar below.
Watch Our On-Demand Webinar
Automate Without Limits: Meet Ranorex Driver: Do you have automated tests written using the Selenium framework? Prefer to write your tests in a language like Java, Python, or PHP, but still want to take advantage of the powerful Ranorex framework and Ranorex Spy? Meet Ranorex Driver, a solution for test automation without limits. Watch this on-demand webinar to see Ranorex Driver in action. 
Get tools to empower everyone on the team
It's not just for technical testers: Ranorex Studio's abstraction layers enhance collaboration  
Ranorex Studio is designed to be used by everyone on the team. Business analysts can create SpecFlow BDD scenarios directly in Ranorex Studio. Non-technical testers can use the powerful capture-and-replay feature to automate tests, add validations, configure conditional execution, and set parameter values without writing code. Technical testers can create and share reusable code modules, and configure source control to ensure that test cases are properly managed. Trigger Ranorex Studio tests directly from your CI server, and produce a test run report that can be read by management without the need for a Ranorex Studio license. Enhance collaboration and empower the entire QA team with Ranorex Studio's testing tools.
"Ranorex Studio is easy to use for developers and testers."
Why use Ranorex Studio for test automation
Ensure the highest quality of your application with the easy-to-use Ranorex functional test automation framework.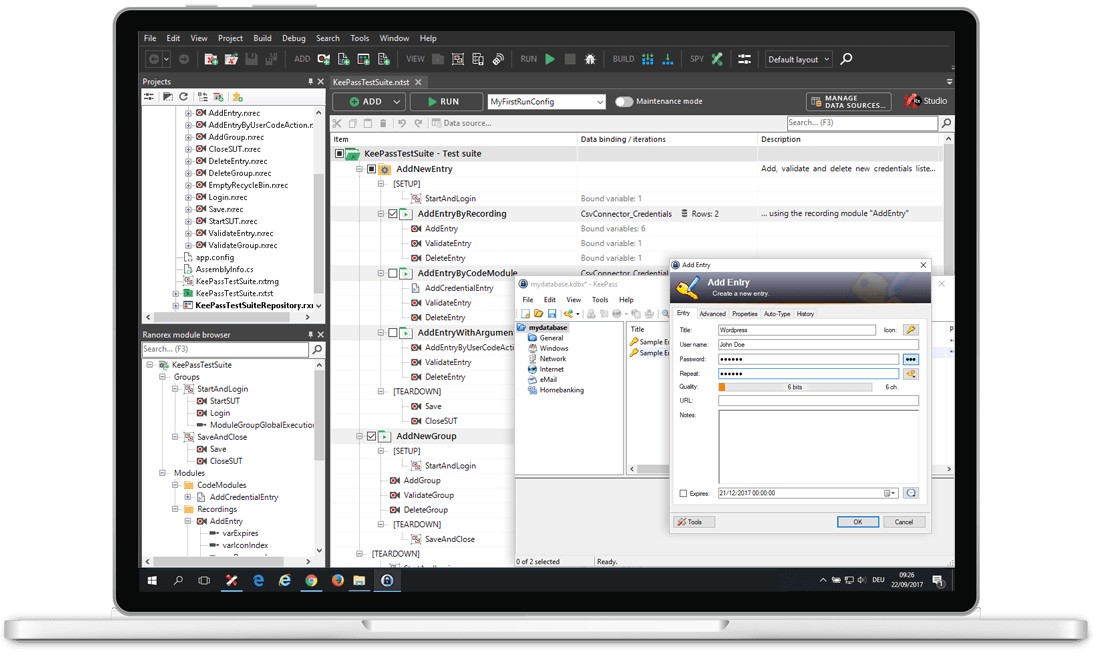 Build tests quickly with reliable capture and replay, plus click-and-go actions.
For a fast start to your automation project, use the Ranorex Recorder to automatically capture UI actions and elements directly from your application. Then, enhance your recording with validations and parameters, add conditions for execution, and bind variables for data-driven testing. You can also easily configure actions to represent different mouse movements, include time delays, key shortcuts, or invoke actions. 
Recognize objects even in mixed-technology applications
Use Ranorex Spy to investigate the user interface of your application, instantly track and analyze UI elements, and fill the central object repository with all controls utilized in your tests. You get consistent object identification across technologies. Spy generates a RanoreXPath for each element – a powerful syntax based on XPath that can uniquely identify UI elements even in mixed technology applications. 
Extend recordings or create user code modules in the full IDE
Speed up test development with a full IDE that includes features like intelligent code completion, code templates, debugging functionalities, refactoring mechanisms, and automation helpers. The Ranorex IDE facilitates best practices to reduce test maintenance, such as global and local parameters, reusable modules, smart folders, and setup/teardown sections. 
Manage and organize UI elements in the Ranorex object repository
All elements that are identified by the Ranorex Spy are automatically saved in a hierarchical tree structure to the object repository. Each object automatically receives a unique and logical name, and includes a screenshot of the element it represents. The object repository separates the identification information from test actions, to provide improved test maintainability.
Use your existing Selenium WebDriver tests
Ranorex Driver receives and interprets Selenium WebDriver 3 requests, so that you can automate desktop applications in any programming language: Java, PHP, Python, and more. Ranorex Driver does not support all WebDriver API methods, as some do not apply to desktop applications. Supported methods include New Session, Delete Session, Status, Set Timeouts, Get Title, Find Element, Get Element Attribute, and more.
Produce and share test run reports with the built-in reporting API
Ranorex Studio includes an API for comprehensive reporting. The fully-customizable XML-based report, which can be shared and viewed on machines where Ranorex Studio is not installed, is easily understandable for non-technical users and provides a comprehensive overview of the test execution flow. It includes screenshots, is JUnit-compatible, and allows you to directly jump to failed test cases out of the report.
Cubeware chose Ranorex Studio for its ability to fit into their technology stack, strong automation API, excellent object recognition, and ease of use.
Build a complete testing toolchain
Ranorex integrates with the build and release tools that you use, including Jira, Jenkins, Git, and more.
Reviews from satisfied users help make Ranorex Studio a leader in the G2 Grid for Test Automation Software, year after year.The G2 Grid for Test Automation Software identifies leading solutions based on market presence and customer satisfaction. To determine market presence, G2 uses a combination of 15 metrics about a vendor and product such as the number of employees, web and social presence, and growth. The customer satisfaction rating is based on an analysis of reviews submitted by real, verified users. Our high customer satisfaction rating contributes to Ranorex Studio's continued position as a leader in the G2 Grid. Ranorex Studio also receives top marks in areas such as ROI, ease of use, and ease of implementation. For more independently-verified research and reviews, visit the Ranorex Studio page at G2 Crowd,TechValidate, or Capterra.
Start automating with Ranorex today
Get all of this with your free trial:
Record-and-replay: robust capabilities to build tests without programming.
Full development environment: Use the Ranorex Studio IDE to script in C# or VB.NET
All supported platforms: run tests on Windows desktop, all popular Web browsers, and Android or iOS devices, including real devices and simulators/emulators
Advanced functionality: Ranorex Spy for machine-trained object detection, Ranorex Coach for test healing, video reporting of test execution, PDF validation, and more.
Customizable test results reporting: generate HTML, PDF, or JUnit-compatible reports; then send test reports as email attachments.
Data-driven testing: pull test data from CSV or Excel files, or a SQL database
Flexible API interface: easily add Ranorex Studio tests to your CI/CD process by integrating with Jenkins, Travis CI, Git, and more.
Built-in integration with Jira and TestRail
Accelerate your software testing with Ranorex Studio. Our built-in tutorials and sample projects will help you be productive right away. Or, if you're ready, you can review our pricing and buy now.