Black Box Testing Tools
Automate black box software testing with intelligent tools for desktop, web and mobile applications.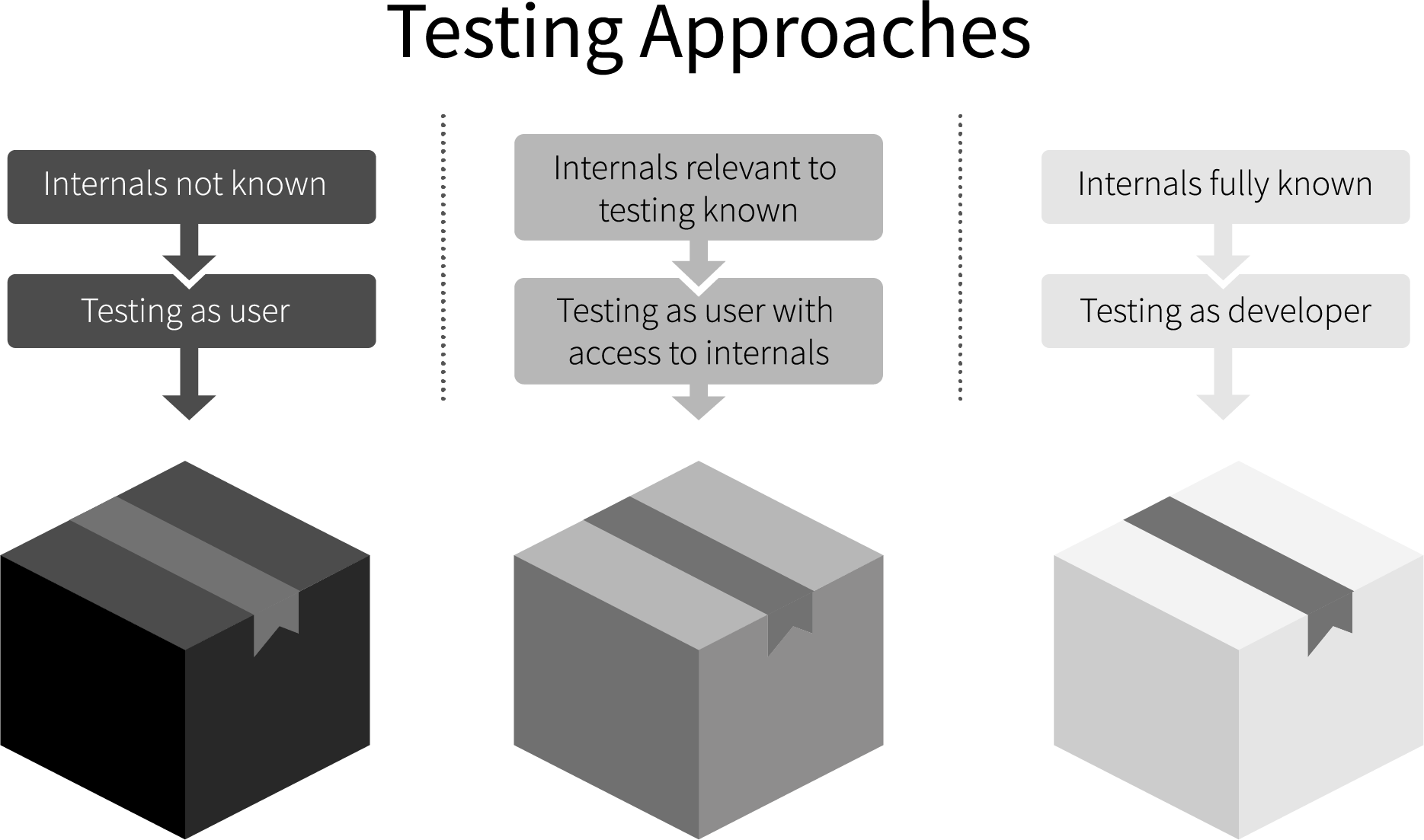 Strong UI element identification
Locate UI elements without knowledge of the underlying architecture.
Data-driven and keyword-driven testing
Easy-to-use tools empower testers to build sophisticated tests without coding
Collaborate with everyone on the team
Increase efficiency with a shareable object repository and user code library.
Integrate with your toolchain
Ranorex fits in your toolchain, from BDD specifications to CI server and defect tracking.
Black box testing vs white box testing
Combine black box, gray box and white box testing for the most comprehensive analysis of your application.
Black box tests are developed from sources such as user stories and functional specifications. They enable QA to focus on verifying features and usability without reliance on the underlying code. This can help catch defects that might be missed due to assumptions about the code.
By contrast, white box tests such as unit and integration tests are created with an understanding of the internals of the application and access to the source code. White box testing may catch defects that are unobserved or that can't be tested directly in the user interface. Gray box tests combine the other approaches: they are developed from the user perspective, but with some understanding of how particular features were implemented.
A combination of black box, grey box and white box testing allows you to benefit from the strengths of each approach and offset the drawbacks.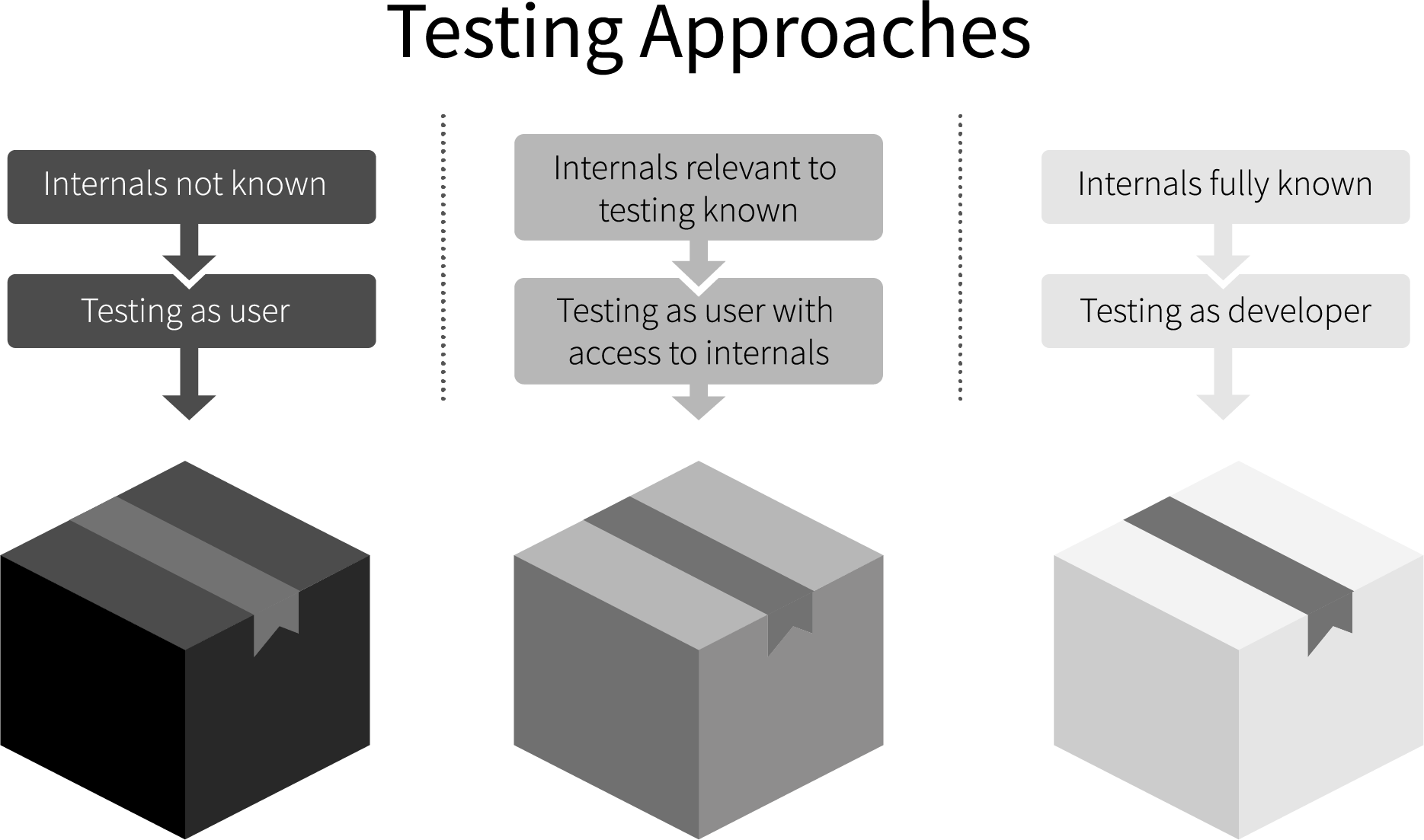 What are black box testing techniques?
In black box testing, functional test cases are developed through analysis of the available documentation, including requirements, specifications, user stories or scenarios. The black box approach can also be used for non-functional tests, such as security and performance tests. Some common black box testing approaches are described below:
Edge cases
Edge cases validate the minimum and maximum acceptable value of a single field, such as for a date or the length of a password. So if a field should allow entries in the range from 1 to 100, create one test case for the value of 1, and another for the value of 100. It is not necessary to test all of the values in between.
Corner cases
Corner cases test combinations of edge cases. The idea here is that while the individual fields may work properly, the combination may not. For example, if your application accepts a start date and an end date, a corner case would check a combination such as the earliest possible start date with the earliest possible end date.
Icon corner case testing
Boundary cases test values just outside and inside of the edge cases. To test value that is valid between 1 and 100, create edge cases for 0, 1 and 2; plus 99, 100 and 101. If the application handles the boundary values properly, then all other values should be handled correctly as well. This technique is also referred to as "boundary value analysis."
User scenario cases
Scenarios describe the goal that a user wants to accomplish, such as checking their account balance or changing their password. In behavior-driven development (BDD), scenarios follow a specific "Given-When-Then" syntax that facilitates the creation of test cases.
Decision table testing
In this formal testing technique, the causes/inputs and effects/outputs in the application are arranged in a table, with each cell containing a unique cause/effect combination. Then a test case is created for each cell value.
Error guessing
In error guessing, testers use their knowledge of the system and experience to guess the types of defects that may exist, and build test cases for them. This technique is similar to exploratory testing, as both rely heavily on the skill and knowledge of the tester.
"After automation with Ranorex Studio, our organization's regression testing time is reduced to 25%. And with the help of build integration, early defect identification is increased from 0 to 10%"
Medium Enterprise Computer Software Company
Get the automated black box testing tools you need
With Ranorex Studio, everyone on the team can build automated tests without access to the underlying code with powerful tools for object recognition, capture-and-replay, a shareable object repository, customizable reporting, and more. 
User-friendly test automation tools
If you are automating a test without access to the application's source code, a capture-and-replay tool is essential. Testers with little or no experience in programming can build reliable tests without writing a single line of code. Easily add complex validations,  set parameters, define conditions for execution, create loops, and handle errors.
Powerful object recognition
Instantly track and analyze UI elements of your desktop, web, or mobile application.  View detailed control information for each UI element, as well as its unique RanoreXPath – a powerful object identification syntax that minimizes maintenance when the UI changes. Manage identified objects in a shareable repository to further reduce maintenance.
Data-driven testing
Easily automate your corner, edge and boundary cases. Just set up variables in your test cases, and link them to external data sets such as simple data tables, SQL connectors, or Excel files. Your test case will loop through the data. You can decide whether a failure should stop the entire test run, continue with the next test case, or continue with the next loop. 
Keyword-driven testing
Create test modules for steps such as launch application, login, and save, and then store these in the user code library for easy re-use.  With Ranorex Studio's support for keyword-driven testing, you can combine code modules and repository objects into sophisticated tests. Easily add execution loops, use conditional logic, and set values with local or global parameters.
Cross-device and cross-browser testing
 With Ranorex Studio, you can automate tests on a Windows desktop, and then execute them locally or remotely, on real iOS or Android mobile devices or on simulators/emulators. Run tests in parallel or distribute them on a Selenium grid to accelerate cross-browser testing for Chrome, Firefox, Safari, Microsoft Edge, and more.
Customizable reporting
Monitor the results of testing with a customizable report that includes pie charts, screenshots, and detailed error logs. Save the report as a PDF or automatically receive it as an email attachment. Generate JUnit-compatible reports for easy integration with CI tools. Jump into to a failed test step directly from the test report, or use the maintenance mode to repair test cases during the test run.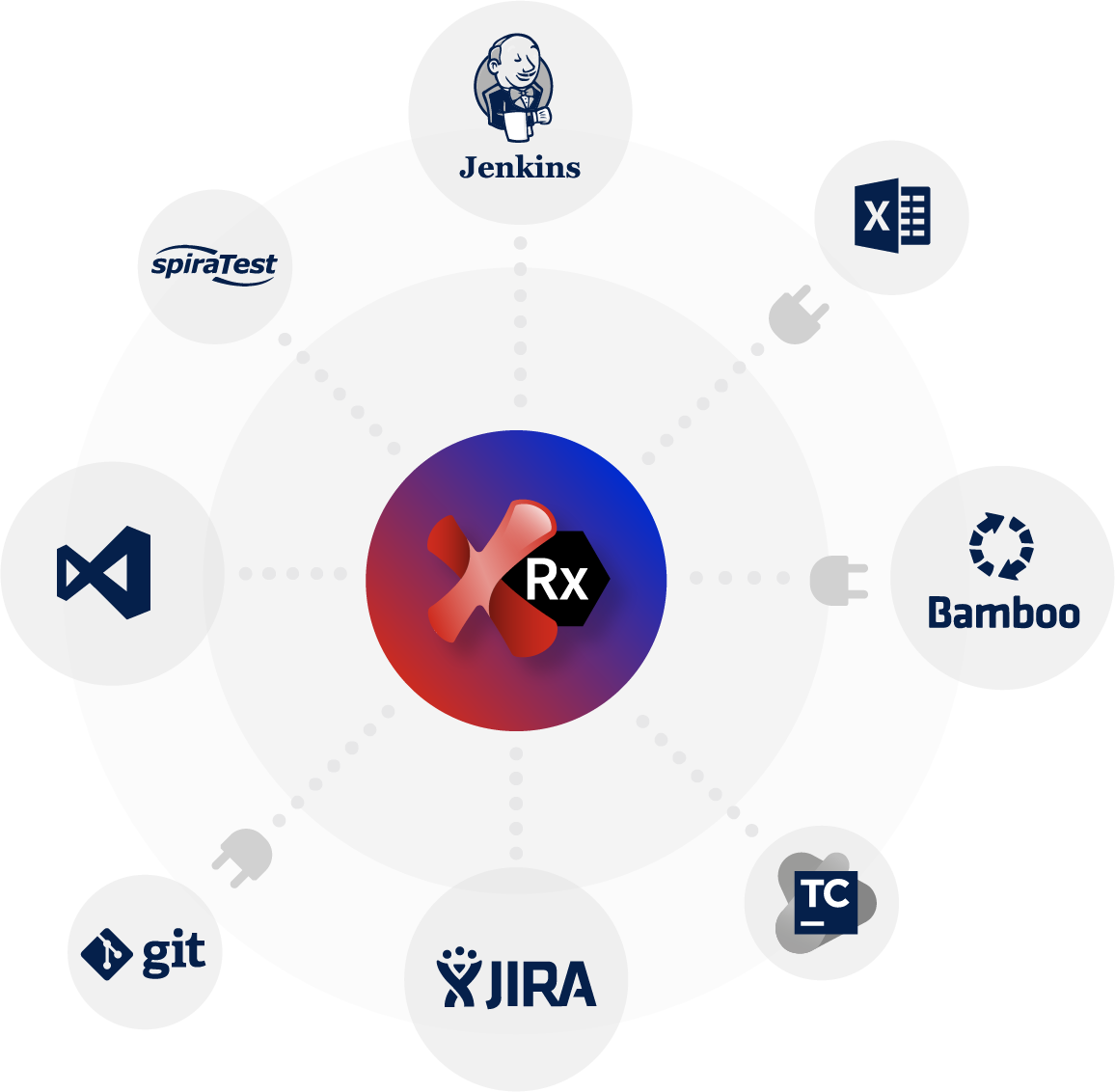 Reduce test automation maintenance
Save time and control the costs of functional test maintenance with Ranorex Studio's unparalleled automation tools.
Test case maintenance doesn't have to be a monumental task. Ranorex Studio's functional testing tools are designed to build automated tests with a low maintenance cost. Reliable UI element identification protects you against tests that fail simply because the location of a UI element changes. A parameter-driven and data-driven approach separates test data from test modules, so that you can add and change data values without having to touch the test script. In addition, Ranorex Studio's approach to test case development helps testers build modular and reusable automated projects. Easily drag-and-drop reusable test modules into smart folders and control test runs with conditions. Build test setup and teardown scripts within your test project to ensure that the test environment is also properly maintained.
We deliver outstanding customer satisfaction
Reviews from satisfied users help make Ranorex Studio a leader in the G2 Grid for Test Automation Software, year after year.
The G2 Grid for Test Automation Software identifies leading solutions based on market presence and customer satisfaction. To determine market presence, G2 uses a combination of 15 metrics about a vendor and product such as the number of employees, web and social presence, and growth. The customer satisfaction rating is based on an analysis of reviews submitted by real, verified users. Our high customer satisfaction rating contributes to Ranorex Studio's continued position as a leader in the G2 Grid. Ranorex Studio also receives top marks in areas such as ROI, ease of use, and ease of implementation. For more independently-verified research and reviews, visit the Ranorex Studio page at G2 Crowd,TechValidate, or Capterra.
Trusted by over 4000 companies worldwide






Start automating with Ranorex Studio today
Get all of this with your free trial:
Record-and-replay: robust capabilities to build tests without programming.
Full development environment: script in C# or VB.NET
All supported platforms: run tests on Windows desktop, all popular Web browsers, and Android or iOS devices, including real devices and simulators/emulators
Advanced functionality: Ranorex Spy for machine-trained object detection, Ranorex Coach for test healing, video reporting of test execution, PDF validation, and more.
Customizable test results reporting: generate HTML, PDF, or JUnit-compatible reports; then send test reports as email attachments.
Data-driven testing: pull test data from CSV or Excel files, or a SQL database
Flexible API interface: easily add Ranorex Studio tests to your CI/CD process by integrating with Jenkins, Travis CI, Git, and more.
Built-in integration with Jira and TestRail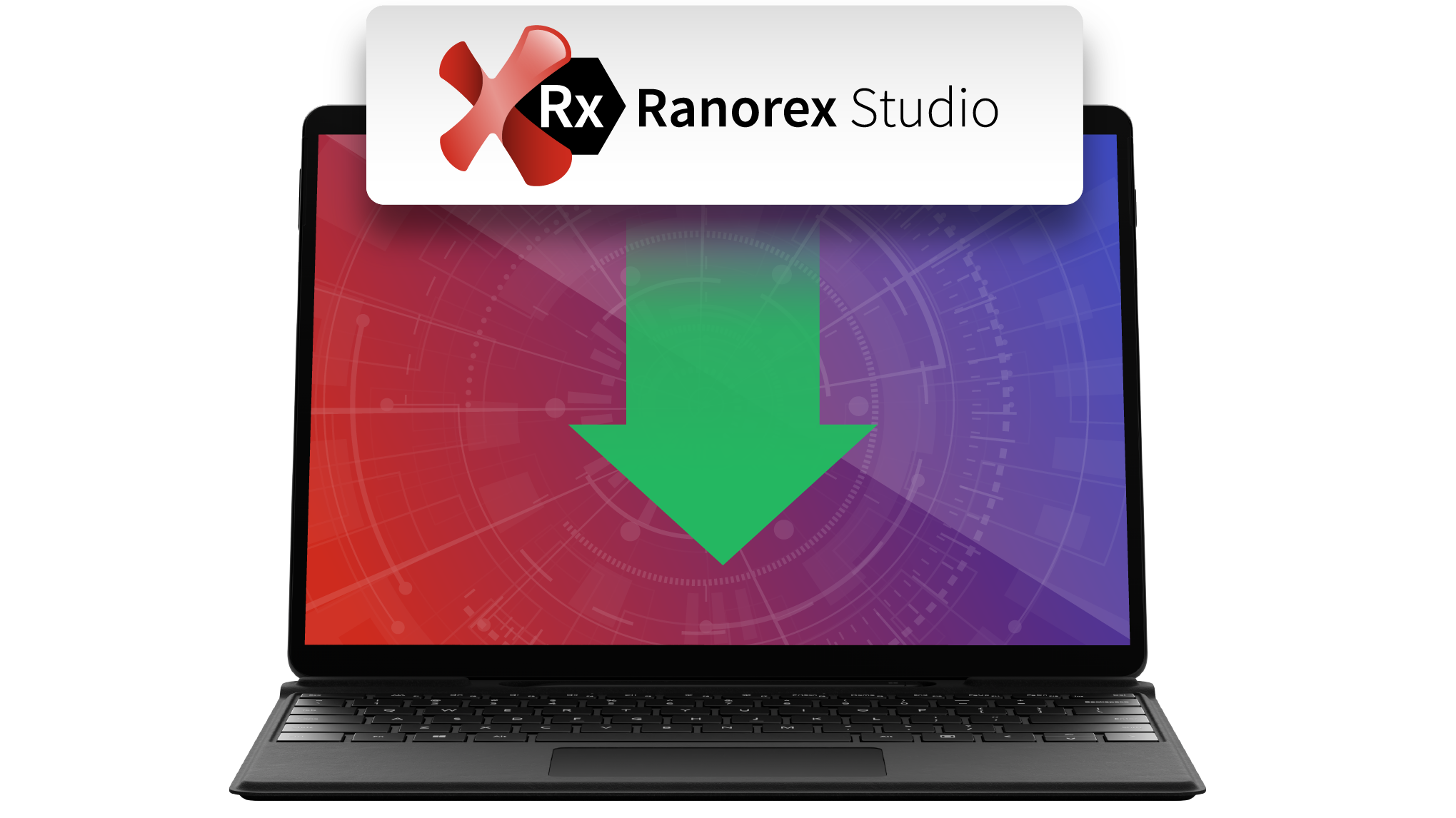 Accelerate your software testing with Ranorex Studio. Our built-in tutorials and sample projects will help you be productive right away. Or, if you're ready, you can review our pricing and buy now.