Easier Selenium Testing with Ranorex Studio
Struggling with a complex framework? Start testing today with Ranorex Studio's easy-to-use tools for a complete alternative to Selenium Webdriver.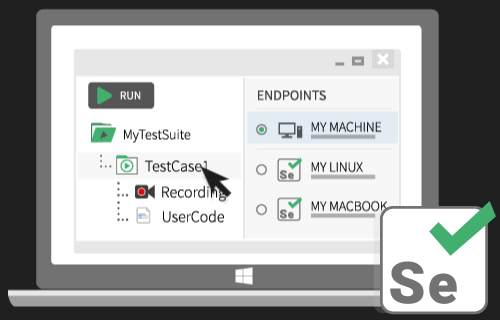 Rapid test automation
Shorten the learning curve and save time building Selenium tests with Ranorex Studio.
Reliable object recognition
Recognize web elements and manage them in a shareable object repository.
Selenium Grid support
Execute tests on Selenium endpoints in parallel or distribute them on a grid.
Complete testing toolset
Conduct data-driven testing, produce test run reports, and integrate with your CI process.
Solve the challenges of Selenium testing
Spend less time managing your test automation, and more time focused on the quality of your web application. 
Setting up a Selenium testing framework can be challenging. And it can be time-consuming to build, debug, and maintain Selenium tests. You might feel like you are working for your automation framework, instead of it working for you. It doesn't have to be this way. Selenium WebDriver is built-in to the Ranorex Studio automation framework so that everyone on the team can build tests for execution on Selenium endpoints, regardless of programming expertise. You don't have to choose between Selenium WebDriver and Ranorex Studio, but can get the best of both.
Automate faster with Ranorex Studio tools
Tools for reliable no-code automation plus a full IDE help you build and maintain tests more efficiently.
With Ranorex Studio, you don't have to spend time building an automation framework or learning how to write WebDriver code. Simply use the Ranorex Recorder to capture the actions that you want to automate. Easily add validation steps, define variables for data-driven testing, or add "wait for" actions to handle timeouts. Or, if you prefer, use the full IDE in Ranorex Studio to build your test in C# or VB.Net. Once your test is complete, you can execute it on all Selenium-supported browsers and platforms.
Save time debugging and maintaining tests
Reliable UI element recognition and a shareable object repository make your tests more stable and maintainable.
Identifying web elements with browser-dependent inspector tools can be tricky. But with the Ranorex Spy tool, you can build robust RanoreXPath expressions for stable object recognition, even for dynamic elements. Then, use the shareable object repository in Ranorex Studio to manage all your UI elements. The repository separates the definition of objects from your test procedures, so that less maintenance is required to keep up with changes in the user interface.
Build flexible and sophisticated test suites
Configure data-driven testing, define and set parameters, apply conditions, produce a detailed test run report, and more.
Ranorex Studio simplifies the process of organizing test cases into test suites. Easily build reusable test modules, and then drag-and-drop them to assemble test cases. Organize your test cases into test suites with setup and teardown sections. Define variables for data-driven testing, configure parameters, set conditions for test execution, customize reporting, and set up custom test run configurations.
Leverage the power of Selenium WebDriver with the ease and flexibility of Ranorex Studio
Start automating now. No credit card required.
Enhanced collaboration
From reusable code modules to the shareable object repository and support for multiple test suites in a single test project, Ranorex Studio is built for collaboration. Use the built-in support for source control to manage your automated tests. Then, use the Ranorex Magic Merger tool to reduce merge conflicts.
Reliable object recognition
The Ranorex Spy tool allows you to analyze and identify UI elements with just a single click! Generate a unique and robust RanoreXPath for each UI element and store it in the shareable object repository for use in your automated tests.
Single point of maintenance
Maintaining tests has never been easier! Because your web elements are stored as objects in the shareable object repository, all you need to do is update the definition once to apply that change to all of your automated tests.
Fast feedback
Quickly identify defects using the fully-customizable test run report. Jump directly into a failed test step from the test run report for fast debugging.
All platforms & browsers
Selenium was designed for web testing. But you can use Ranorex Studio for all of your test automation needs: desktop platforms, mixed-technology web applications, and native mobile apps on iOS and Android.
Single point of maintenance
Scale your cross-browser web tests by running them in parallel on multiple WebDriver endpoints, to a local Selenium grid or to cloud-based providers.
Benefit from true WebDriver integration
Other tools merely trigger existing Selenium tests, but Ranorex Studio has WebDriver built-in to the core API.
The Webdriver integration in other test automation tools only allows you to trigger existing Selenium tests. This means that you still have the challenges of creating and maintaining them. But with Selenium WebDriver built-in to Ranorex Core API, you can:
Create tests in Ranorex Studio using script-free or code-based tools
Use the Ranorex Spy for instant object identification
Easily manage web UI elements in a central object repository
Instantly automate dynamic UI elements and handle UI synchronization issues
Execute Ranorex tests on all Selenium-supported platforms and browsers, including Linux and macOS
Watch Our On-Demand Webinar
Selenium WebDriver Integration: See how to address common Selenium pain points and accelerate cross-browser testing in a hands-on demonstration of the Selenium WebDriver integration with Ranorex Studio.
We deliver outstanding customer satisfaction
Reviews from satisfied users help make Ranorex Studio a leader in the G2 Grid for Test Automation Software, year after year.
The G2 Grid for Test Automation Software identifies leading solutions based on market presence and customer satisfaction. To determine market presence, G2 uses a combination of 15 metrics about a vendor and product such as the number of employees, web and social presence, and growth. The customer satisfaction rating is based on an analysis of reviews submitted by real, verified users. Our high customer satisfaction rating contributes to Ranorex Studio's continued position as a leader in the G2 Grid. Ranorex Studio also receives top marks in areas such as ROI, ease of use, and ease of implementation. For more independently-verified research and reviews, visit the Ranorex Studio page at G2 Crowd,TechValidate, or Capterra.
Trusted by over 4000 companies worldwide






Start automating with Ranorex Studio today
Get all of this with your free trial:
Record-and-replay: robust capabilities to build tests without programming.
Full development environment: script in C# or VB.NET
All supported platforms: run tests on Windows desktop, all popular Web browsers, and Android or iOS devices, including real devices and simulators/emulators
Advanced functionality: Ranorex Spy for machine-trained object detection, Ranorex Coach for test healing, video reporting of test execution, PDF validation, and more.
Customizable test results reporting: generate HTML, PDF, or JUnit-compatible reports; then send test reports as email attachments.
Data-driven testing: pull test data from CSV or Excel files, or a SQL database
Flexible API interface: easily add Ranorex Studio tests to your CI/CD process by integrating with Jenkins, Travis CI, Git, and more.
Built-in integration with Jira and TestRail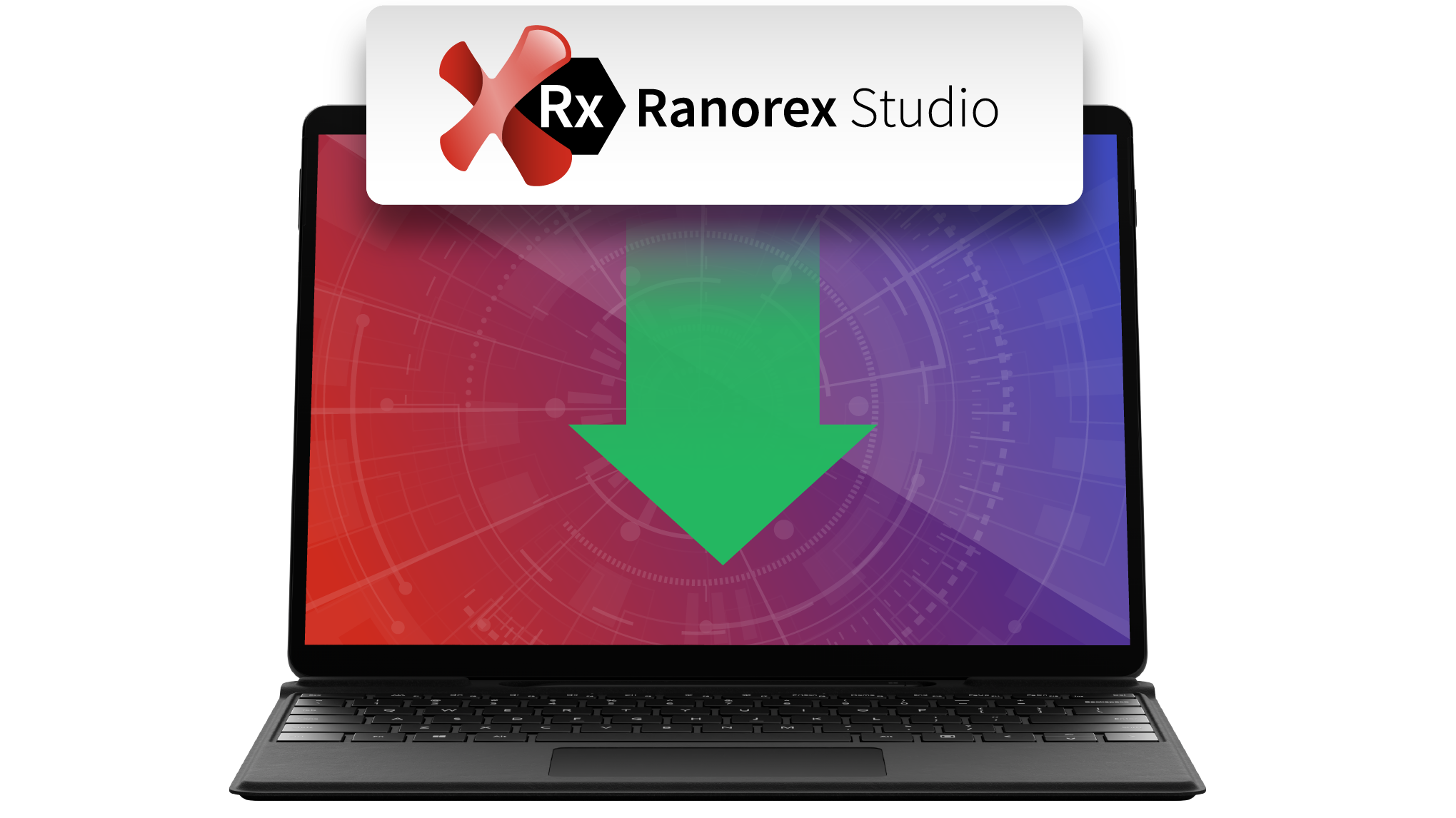 Accelerate your software testing with Ranorex Studio. Our built-in tutorials and sample projects will help you be productive right away. Or, if you're ready, you can review our pricing and buy now.