Data-Driven Testing
Combine automated tests with a data from an Excel spreadsheet, CSV file, or SQL database to test faster and more accurately.
Accelerate testing
Complete more tests in less time with automated procedures and test data.
Increase accuracy
Ensure that inputs are handled correctly and compared to the correct expected results.
Reduce test maintenance
Easily add or change test scenarios just by modifying the test data.
Maximize resources
Execute tests during off-hours, free manual testers for exploratory testing.
Introduction to data-driven testing
Data-driven testing separates test procedures from test data, to increase efficiency and reduce maintenance.
An automated test consists of two parts: the procedure, which is a set of steps to perform; and the data to use in the test. For example, a test for a login dialog would include steps to open the application, enter the username, enter the password, click the Submit button, and check that the application responded correctly. The data for this test would include a username, password, and the expected results of the test, such as a successful login or an appropriate error message.
Typically, a login test would be repeated for multiple combinations of valid and invalid username and passwords. In data-driven testing, the test data is stored in a table separate from the test procedure. During a test run, the test procedure is performed once for each row in the data table. Thus, the data in the table can be said to "drive" the execution of the test.
What is a data-driven testing framework?
Build automated test cases and connect them to a data source with a data-driven testing framework.
With a data-driven testing framework, you can create an automated test and connect it to a data source using one or more variables. In the example of a login process, the username, password, and expected result can all be configured as variables. When the test executes, the variables are replaced by values from the data source. In Ranorex Studio, your data source could be a simple internal table, a CSV file, a Microsoft Excel spreadsheet, or a SQL database connector. Using the SQL database connector, you could execute your automated tests against a test database, or even your full production database.
What are the benefits of data-driven testing?
Reduced test maintenance
Instead of redundant test cases that each check a particular set of data values, with data-driven testing, you have just a single test case to maintain. Easily add or remove scenarios by changing the test data without affecting the test procedure.
Faster test execution
A data-driven automated testing framework can execute a large volume of tests far more rapidly than manual testing, especially for repetitive test cases that cover positive and negative test data values, or corner, edge, and boundary cases.
Increased accuracy
Even the most diligent manual tester can make typing errors when entering large amounts of data and performing repetitive tasks. With automated data-driven testing, the exact data values specified in the data source are used to execute the test case.
Improved use of resources
Automated data-driven test cases can execute during off-hours, when test machines would otherwise be idle. With manual testers freed from entering repetitive test data, they can focus on more challenging exploratory and user experience testing.
Better storage of test data
Because test procedures and data are maintained separately, you can store test data in a location accessible to everyone on the team, whether that's an Excel spreadsheet, CSV file or database file. This makes the data easier to share, re-use, backup, and maintain.
Use for more than just testing
In addition to functional testing, you can use data-driven procedures to simulate data entry for load and performance testing. It's also possible to use a data-driven test case to populate a test or even a production database.
Watch Our On-Demand Webinar
Mastering Data-Driven Testing with Ranorex Studio: Maximize the benefit of your test cases by linking them to data sources such as spreadsheets or SQL databases.
"We used many tools as trials at the beginning. We realized that there are no tools better than Ranorex Studio: the UI is very easy to understand and easy to automate data-driven, reusable, and modular tests"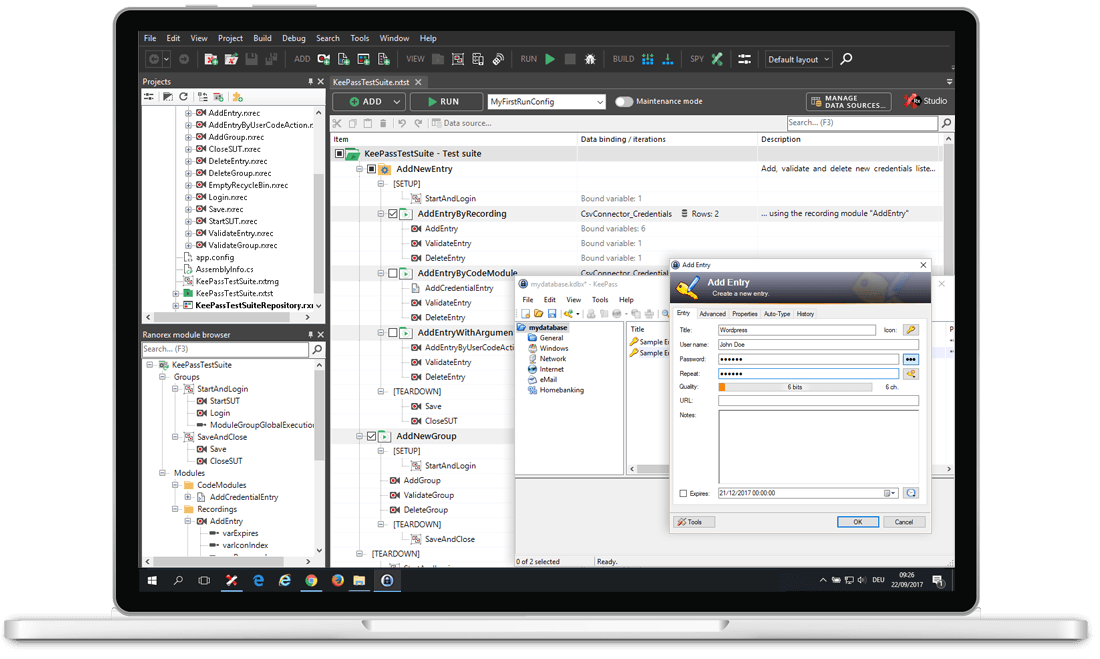 Why choose Ranorex Studio for data-driven testing
Improve test efficiency and coverage with Ranorex Studio test automation features.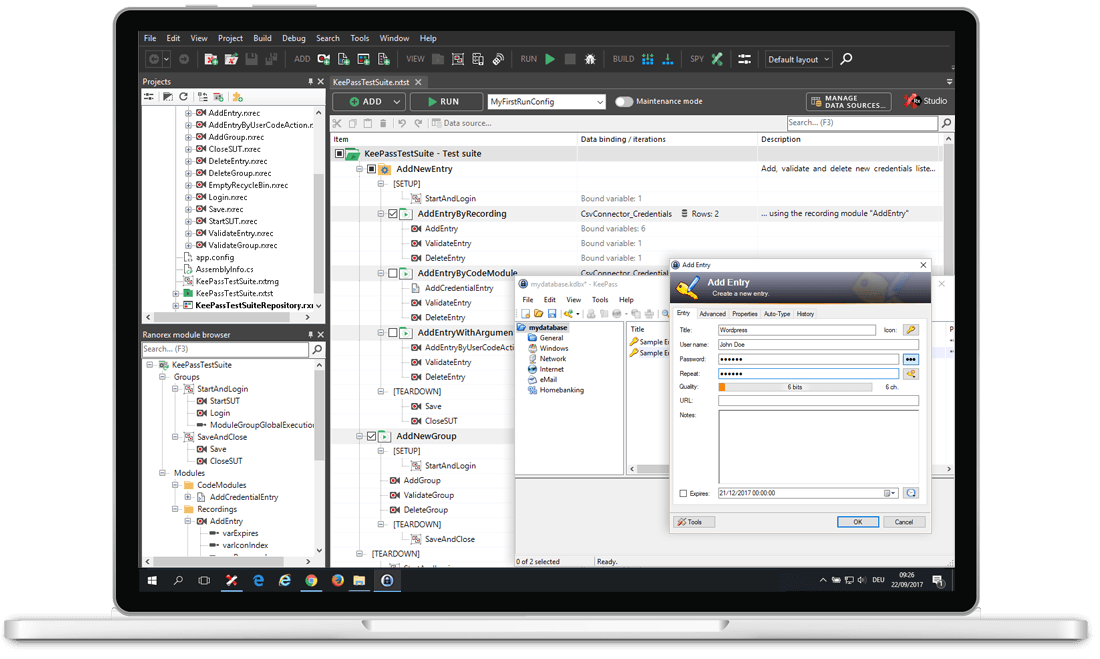 Supported data sources
You aren't limited to CSV files for your data-driven testing. Ranorex Studio also supports simple internal data tables, Microsoft Excel spreadsheets, and SQL database connectors. Use a single source or combine sources for maximum flexibility.
Powerful automation
Rapidly build tests with tools for codeless automation, or use the full IDE. Ranorex Studio automatically identifies UI elements and stores them as objects in an object repository. In addition to input fields, the repository enables data-driven testing for controls such as radio buttons and checkboxes.
Easy editing
Editing a test procedure is easy with the Ranorex Studio action editor. Use drop-down menus make to create variables that connect repository objects to your data source(s). Point and click to manually bind test variables to input values, or allow the auto-bind function to do it for you.
Sophisticated validation
Validations are essential to verify the correct functionality of your application. Easily build complex data-driven validations while recording tests. Compare images as well as text, all without writing a single line of code. Mask input and validation values as desired, to keep them from appearing in the test report.
Remote testing
Accelerate testing and increase productivity by running your tests in parallel using a Ranorex Agent. Or, use the built-in Selenium WebDriver integration to distribute tests on a Selenium Grid, either locally or in the cloud. Beginning with Release 8.3, save even more time with our installation-free remote test execution.
Full control with conditions
Manage the behavior of automated tests with conditions. Each condition can include up to 10 rules to manage decisions such as whether to perform a test based on the current data value. If a test fails, a rule can control whether to continue with the next data value, jump to the next test case, or stop the test run.
Solve the challenge of data-driven testing in Selenium WebDriver
Built-in support for data-driven testing in Ranorex Studio simplifies data-driven cross-browser and cross-platform testing 
Designing a Selenium WebDriver framework for data-driven testing is technically challenging, and that doesn't include the effort necessary to automate and execute tests.
Increase your efficiency by using Ranorex Studio to easily configure data-driven testing for a web application in a single browser. Define a variable for the browser, and you can use a data table to drive your cross-browser testing. Ranorex Studio's built-in Selenium WebDriver integration allows you to execute your automated tests on all Selenium-supported platforms and browsers, including Linux and macOS. Then, save even more time by executing your cross-browser tests in parallel. Simply use the Ranorex Parallel Runner to execute your test suite across multiple capability sets on a Selenium Grid through a WebDriver endpoint in parallel.
We deliver outstanding customer satisfaction
Reviews from satisfied users help make Ranorex Studio a leader in the G2 Grid for Test Automation Software, year after year.
The G2 Grid for Test Automation Software identifies leading solutions based on market presence and customer satisfaction. To determine market presence, G2 uses a combination of 15 metrics about a vendor and product such as the number of employees, web and social presence, and growth. The customer satisfaction rating is based on an analysis of reviews submitted by real, verified users. Our high customer satisfaction rating contributes to Ranorex Studio's continued position as a leader in the G2 Grid. Ranorex Studio also receives top marks in areas such as ROI, ease of use, and ease of implementation. For more independently-verified research and reviews, visit the Ranorex Studio page at G2 Crowd,TechValidate, or Capterra.
Trusted by over 4000 companies worldwide






Start automating with Ranorex Studio today
Get all of this with your free trial:
Record-and-replay: robust capabilities to build tests without programming.
Full development environment: script in C# or VB.NET
All supported platforms: run tests on Windows desktop, all popular Web browsers, and Android or iOS devices, including real devices and simulators/emulators
Advanced functionality: Ranorex Spy for machine-trained object detection, Ranorex Coach for test healing, video reporting of test execution, PDF validation, and more.
Customizable test results reporting: generate HTML, PDF, or JUnit-compatible reports; then send test reports as email attachments.
Data-driven testing: pull test data from CSV or Excel files, or a SQL database
Flexible API interface: easily add Ranorex Studio tests to your CI/CD process by integrating with Jenkins, Travis CI, Git, and more.
Built-in integration with Jira and TestRail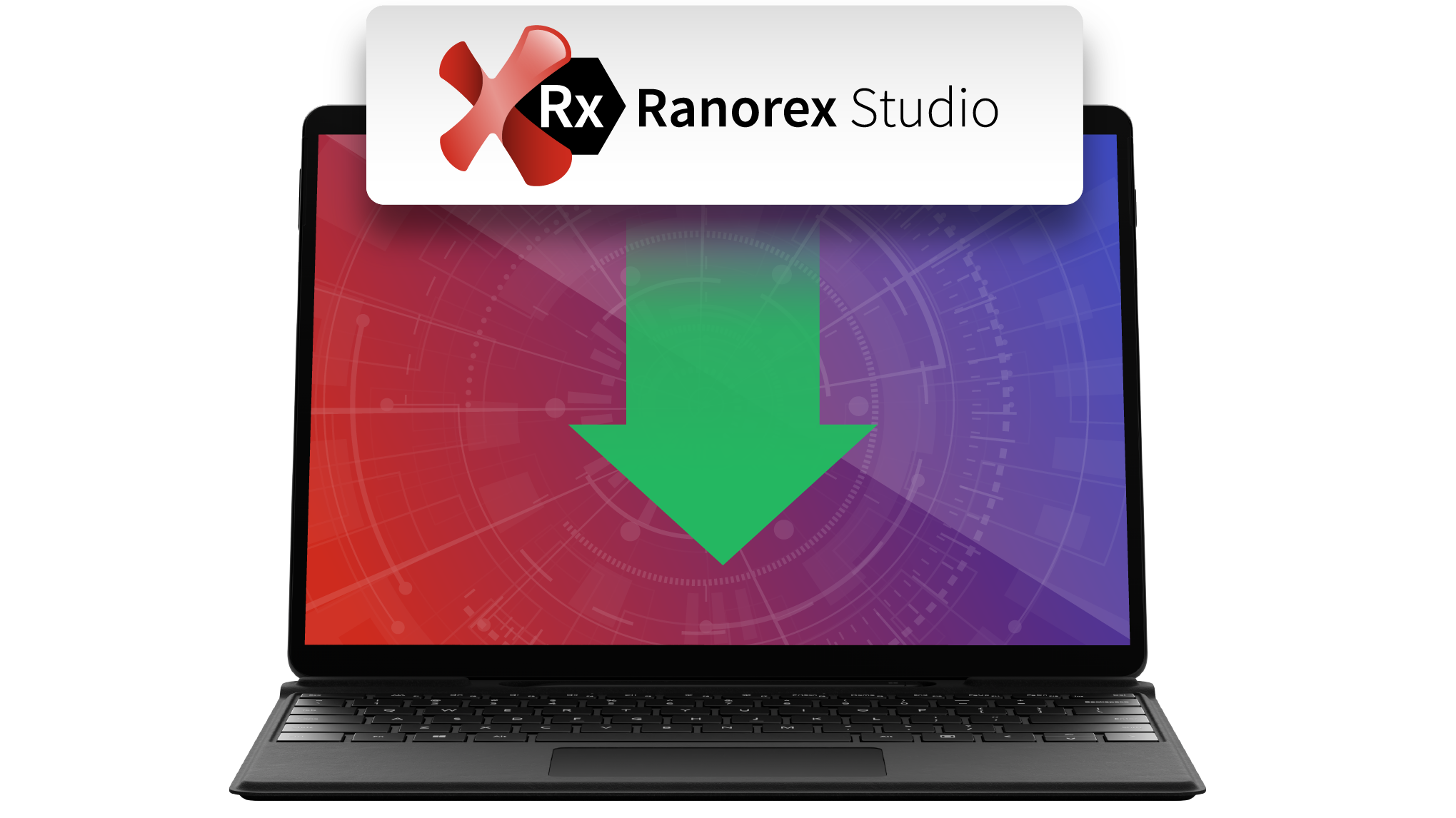 Accelerate your software testing with Ranorex Studio. Our built-in tutorials and sample projects will help you be productive right away. Or, if you're ready, you can review our pricing and buy now.