Application Analysis Made Easy
With Ranorex Spy, you can easily explore and analyze a UI to identify controls and UI elements on desktop, mobile, and web apps, speeding up development while reducing test maintenance.



Reliable Test Automations for Desktop, Web, or Mobile
Ranorex Spy, an extension of Ranorex Studio, allows users to easily run applications through a UI element scanner, receiving important information regarding element identification. Through this process, elements can then be maintained in the object repository, making testing more simple and efficient. Abstraction layers work to enhance collaboration, ensuring tests are more maintainable, keeping maintenance costs low.
Make your testing more comprehensive with Ranorex Spy. Test desktop, web, or mobile application controls and user interfaces with Ranorex Spy as a standalone tool, or explore every automation capability offered by Ranorex Studio.
Why Use Ranorex Spy?
Test automation is made more simple with the help of Ranorex Spy. The Spy tool allows users to identify and validate objects faster, returning pertinent information on how the objects are interacting with the application and impacting user experience.
Reliable Object Identification
With Ranorex Spy, you can analyze and identify elements with RanoreXPath while also maintaining them in the object repository, ensuring more impactful, stable automated tests—this is a must when it comes to saving time and money on test automation. With the strongest object recognition in the industry, Ranorex Spy instantly tracks all UI elements, including dynamic elements, providing you detailed control information on each for use in validation.
Compatible with Multiple Device Types
Ranorex Spy works with mobile, web, and desktop interfaces. Multi source testing allows testers to complete tasks faster and identify issues between platforms sooner, getting your project operating perfectly in a shorter time.
GUI Object Recognition
Efficient test automation starts with reliable object identification. Ranorex Spy delivers unparalleled recognition of GUI objects and controls, guaranteeing each user interface element is uniquely identified using the powerful and flexible RanoreXPath syntax. This information can be stored in the Ranorex object repository for use in automated tests or shared with other project members via snapshot files, keeping your team up to date instantly. 
The Ranorex object repository, which manages identified UI objects, allows these objects to be edited and re-used in various testing projects. Assign them purposeful names to make them more maintainable, set default values, or link objects to parameter values. The whole team will find it simple to separate test data from procedures, use local and global parameters to pass values, and locate simple, reusable code modules which your whole team can share
Maintainable Testing
Ranorex Spy is a robust tool that keeps track of tests through recording, allowing you to build tests without programming, meaning you spend less time rewriting or updating.
Code in Multiple Languages
When utilizing Ranorex Spy in the Ranorex Studio, Ranorex Driver receives and interprets Selenium WebDriver 3 requests. This means you can automate desktop applications in any programming language, like Python, PHP and Java, in addition to C# and VB.NET, for ultimate flexibility and customization. 
Who Is Ranorex Spy for?
Any business interested in creating a powerful, high quality application can benefit from Ranorex Spy.
Benefits of Using Ranorex Spy
Using industry-leading element recognition, Ranorex Spy allows application developers to identify crucial issues with controls and UI elements quickly and effectively, expediting the development process and in turn the overall project, cutting down on time and costs. 
The ability to build tests quickly and utilize features like intelligent code completion, code templates, debugging functionalities, refactoring mechanisms, and automation helpers reduces maintenance and improves test maintainability.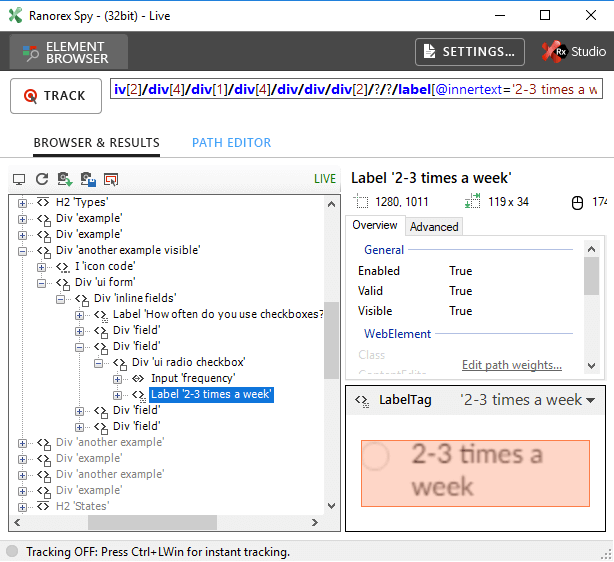 Ranorex Studio with Ranorex Spy
Ranorex Studio allows teams to utilize industry-leading little-to-no code test automation tools, reducing test maintenance. Ranorex Spy is included with the Studio package, and provides reliable object identification, the building blocks of test automation. Utilize the entire studio, which includes Ranorex Driver and Ranorex DesignWise for a truly encompassing experience.
Try Ranorex Studio
Are you ready to experience the ease of phenomenal test automation? Start your free trial of Ranorex Studio today or reach out for details and assistance.
"We chose Ranorex for its ease of test creating using recording functionality despite a complex UI that eluded other testing products."
Mark Dixon, Head of Software Development, Elecosoft UK
Build a complete testing toolchain
Ranorex integrates with the build and release tools that you use, including Jira, Jenkins, Git, and more.

We deliver outstanding customer satisfaction
Reviews from satisfied users help make Ranorex Studio a leader in the G2 Grid for Test Automation Software, year after year.
The G2 Grid for Test Automation Software identifies leading solutions based on market presence and customer satisfaction. To determine market presence, G2 uses a combination of 15 metrics about a vendor and product such as the number of employees, web and social presence, and growth. The customer satisfaction rating is based on an analysis of reviews submitted by real, verified users. Our
high customer satisfaction rating
contributes to Ranorex Studio's continued position as a leader in the G2 Grid. Ranorex Studio also receives top marks in areas such as
ROI
,
ease of use
, and
ease of implementation
. For more independently-verified research and reviews, visit the Ranorex Studio page at
G2 Crowd
,
TechValidate
, or
Capterra
.
Start Selenium Testing with Ranorex Today