Test Automation
Framework Guide – Benefits of Automation testing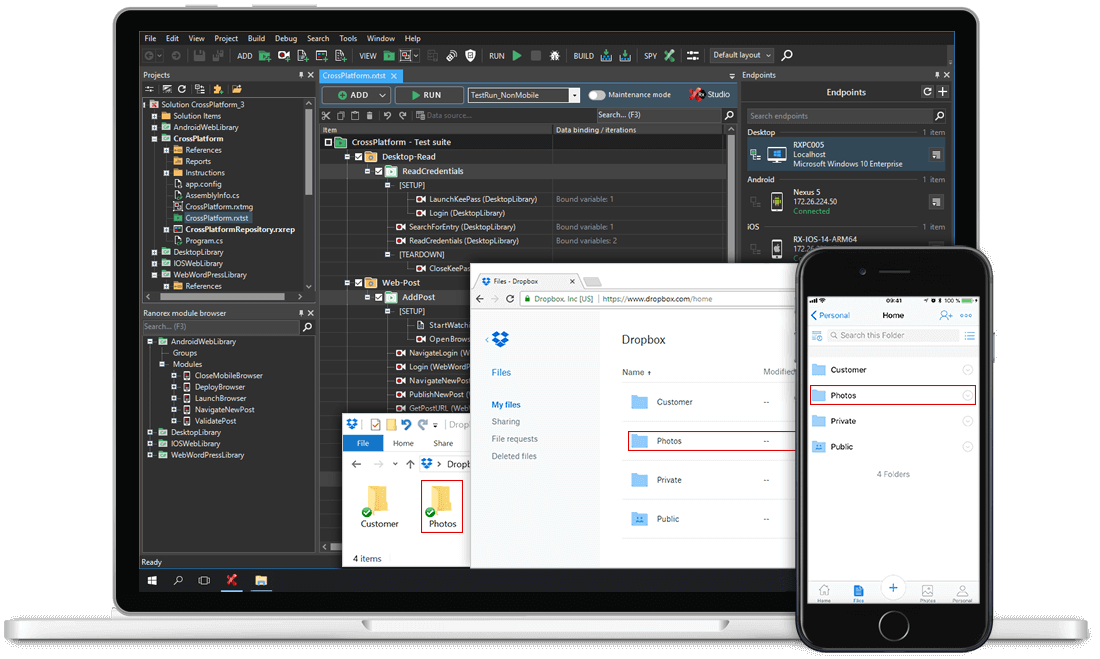 What Is a Test Automation Framework? 
A test automation framework is a collection or library of actions that can be used to perform various types of testing, such as unit testing, regression testing, integration testing, smoke testing, and more. Frameworks typically come in one of two approaches: direct code only, which requires developer skills, or no code, which any manual tester can use to build powerful automated tests without any development experience.
Why Use a Test Automation Framework?
Whether you're a developer or a manual tester, test automation frameworks can be a huge help when it comes to increasing code reuse and portability, reducing script maintenance, saving costs, and more. Depending on your team's skill background and specific use case, the value from deploying a test automation framework could be almost instantaneous!
Focus on your application, not your automation
Let Ranorex handle the complicated details of test automation.
Ranorex Studio, has a full set of tools for easy no-code automation plus a full IDE and open API. Ranorex Studio's broad technology support makes it possible to automate tests for the most challenging legacy applications as well as the latest web and mobile technologies. Use Ranorex Studio to create coded API tests, combine them with your UI test runs, and take advantage of execution capabilities and  detailed reporting.
Why settle for only when you can get everything. Build absolute cross-platform tests from a single test suite without the need for complicated context switching. Test everything and everywhere all from a no-nonsense license.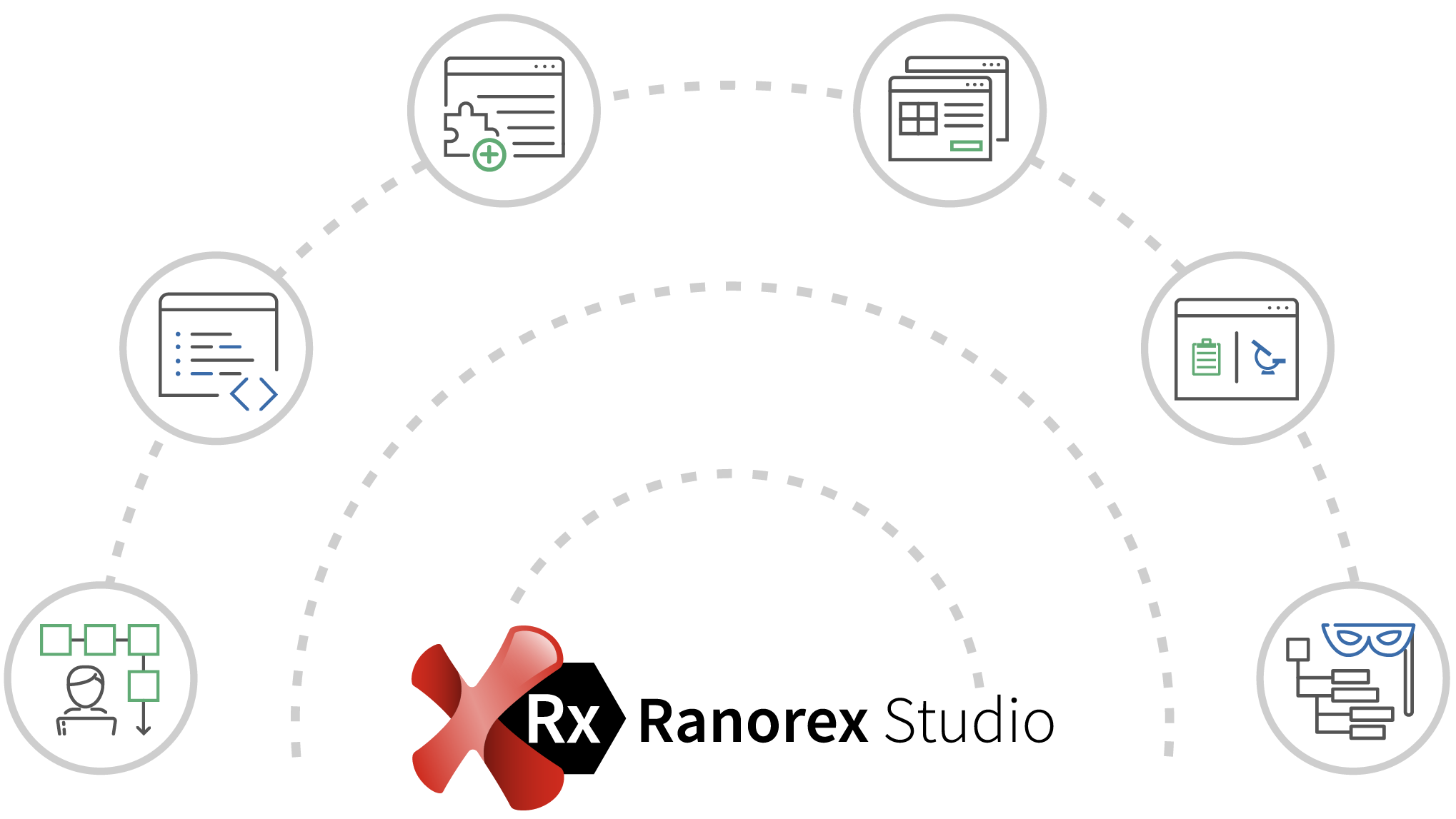 Automate testing for any desktop, web or mobile technology
Whether you are testing a legacy desktop application or a native app for the latest mobile devices, a single Ranorex Studio license includes the technologies that you need. To read more about Ranorex Studio's support for a specific technology, click one of the links below.
Increase quality and shorten release cycles
Designed for different skills, roles, and needs, Ranorex functional test automation lets QA teams function at their best.
Achieve test automation goals
When the whole team is responsible for quality, it is important that everyone can contribute to test automation. As Ranorex Studio supports keyword-driven testing, you can ensure that each person's skill is put to the best use.
Benefit from day-one productivity
Minimize the learning curve. Easy-to-use tools and a built-in methodology enable testers to create modular automation scripts that are efficient and maintainable, regardless of programming expertise.
Keep maintenance low
Since short release cycles produce software that is continuously evolving, updating automated tests can require considerable effort. The Ranorex studio object repository enables you to easily manage all your UI elements in one place.
Accelerate the feedback loop
Monitor the impact of software changes on the system by integrating automated testing in your CI/CD environment. Trigger your smoke tests for every code change. Run your full regression suite in parallel or distributed on a Selenium Grid and get results in a fraction of the time.
Free up resources
Build stable, reliable automated tests that provide fast feedback from testing and have a low maintenance cost – freeing you from repetitive, low-level manual tests to perform more challenging verification of your application – so that your team can deliver high-quality applications to end-users.
Foster collaboration
Ranorex Studio is built for collaborative teams, with a shareable object repository, reusable code modules for keyword-driven testing, support for source control providers Git, SVN, and TFS, and even a "Magic Merger" tool that reduces merge conflicts.
Exceptional training and support
Our help resources
Professional support
A Ranorex Studio license includes access to our expert support team as well as software maintenance. Need help deciding if Ranorex Studio is the right solution for your test automation goals? Our knowledgeable sales team will assist you through a "proof of concept" evaluation. Ranorex Studio also offers value-add services to ensure your long-term success.
Flexible training options
Gain valuable test automation skills in the way that best fits your needs. Watch live and on-demand webinars that cover topics from getting started through best practices. Or, connect with one of our training partners to learn more about onsite and online training. A certification program is available for testers to demonstrate their expertise with Ranorex Studio.
Valuable learning resources
The Ranorex Help Center is your one-stop shop for mastering test automation with Ranorex. In addition to our detailed user guide, you will find tips for best practices, release notes, FAQs, "how to" screencasts, the Ranorex user forum and more. The tools you need for success are just a click away!
We deliver outstanding customer satisfaction
Reviews from satisfied users help make Ranorex Studio a leader in the G2 Grid for Test Automation Software, year after year.
The G2 Grid for Test Automation Software identifies leading solutions based on market presence and customer satisfaction. To determine market presence, G2 uses a combination of 15 metrics about a vendor and product such as the number of employees, web and social presence, and growth. The customer satisfaction rating is based on an analysis of reviews submitted by real, verified users. Our high customer satisfaction rating contributes to Ranorex Studio's continued position as a leader in the G2 Grid. Ranorex Studio also receives top marks in areas such as ROI, ease of use, and ease of implementation. For more independently-verified research and reviews, visit the Ranorex Studio page at G2 Crowd,TechValidate, or Capterra.
Trusted by over 4000 companies worldwide






Start automating with Ranorex Studio today
Get all of this with your free trial:
Record-and-replay: robust capabilities to build tests without programming.
Full development environment: script in C# or VB.NET
All supported platforms: run tests on Windows desktop, all popular Web browsers, and Android or iOS devices, including real devices and simulators/emulators
Advanced functionality: Ranorex Spy for machine-trained object detection, Ranorex Coach for test healing, video reporting of test execution, PDF validation, and more.
Customizable test results reporting: generate HTML, PDF, or JUnit-compatible reports; then send test reports as email attachments.
Data-driven testing: pull test data from CSV or Excel files, or a SQL database
Flexible API interface: easily add Ranorex Studio tests to your CI/CD process by integrating with Jenkins, Travis CI, Git, and more.
Built-in integration with Jira and TestRail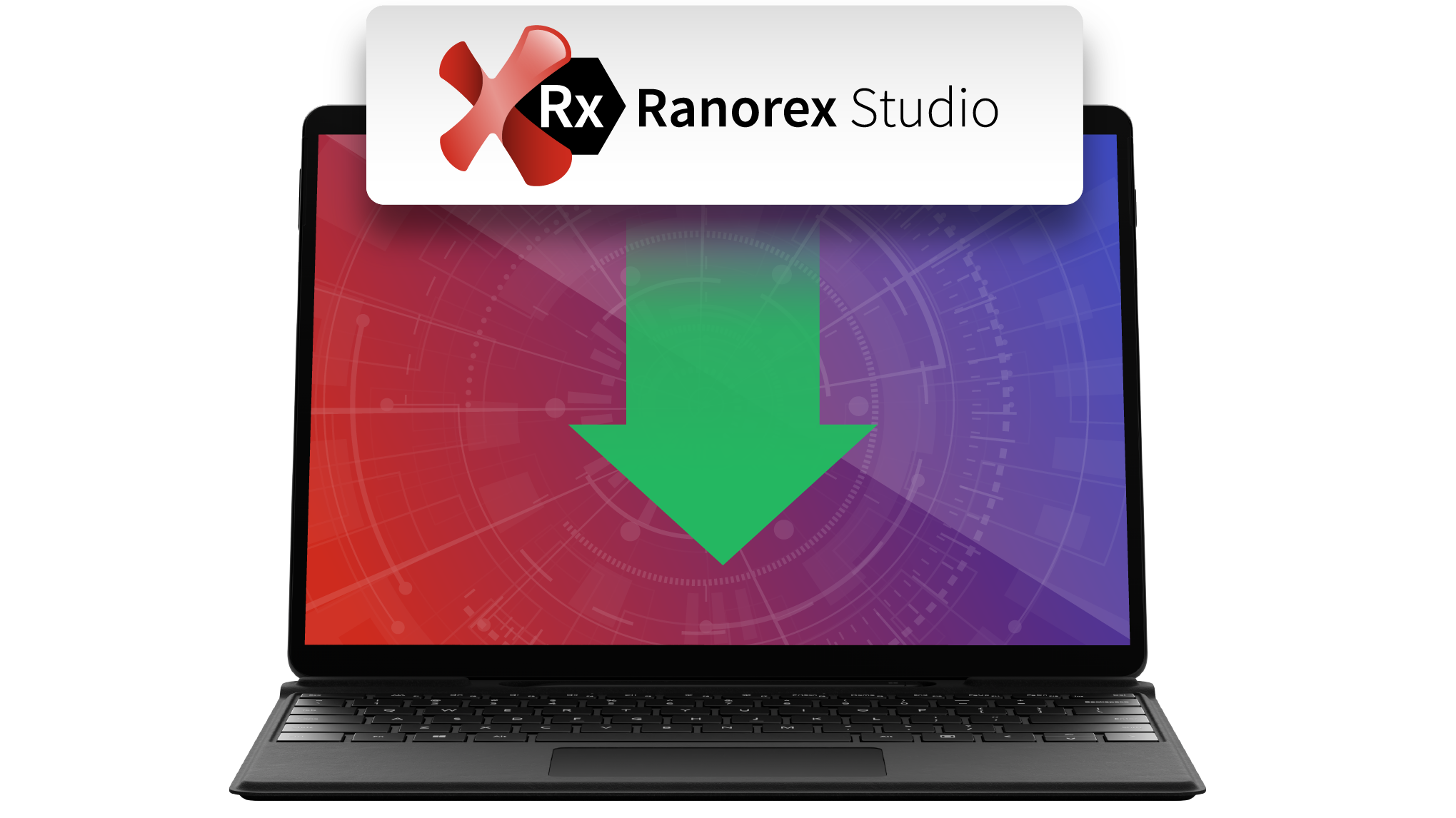 Accelerate your software testing with Ranorex Studio. Our built-in tutorials and sample projects will help you be productive right away. Or, if you're ready, you can review our pricing and buy now.