Robotic Process Automation: A Complete Guide
What Is Robotic Process Automation (RPA)?
Robotic Process Automation Definition
Robotic process automation, or RPA, is the process by which a bot is programmed to perform repetitive or high-volume tasks. This frees up time for the developers to focus on more creative or complex tasks.
Robotic Process Automation Example
One easy example to better understand RPA is returning a retail item. Returns, when handled by a person, can be costly and time consuming. However, with RPA, this entire process can be automated because it has a specific input (your return) that triggers a series of actions (producing a shipping label, adding the item to an inventory, etc.) and has a particular output (your refund).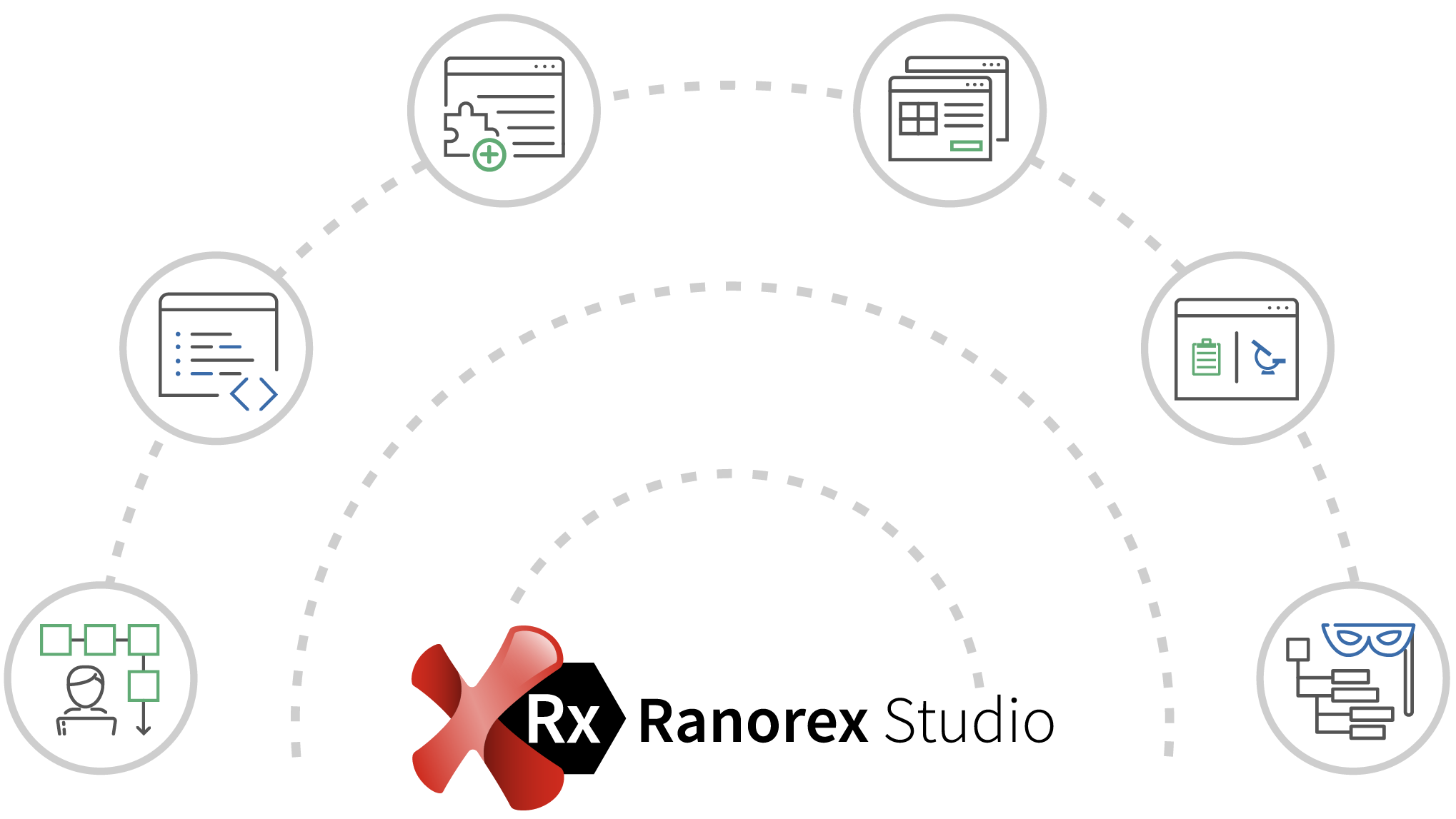 5 Benefits of Robotic Process Automation
Automating repetitive processes through RPA allows those very actions to be performed quickly and precisely without your input. This not only increases productivity in regards to those tasks, but it also increases your personal productivity since it allows you to focus your efforts on other things.
Repeating the same task over and over can wear on a person. After a period of time, the likelihood of errors increases. With RPA, you can guarantee consistency and accuracy until the task is completed.
With Ranorex Studio, you can easily integrate a number of different applications to improve your automated processes, including data management software such as:
By advancing your processes and enhancing your productivity, you can reduce operating costs which will allow you to continue to scale your business with ease. As new needs arise, you can add further RPA processes to continuously improve.
As demonstrated in the earlier example about returns and refunds, robotic process automation can be used to speed up and improve the customer experience. Whereas a manual return may take several weeks and involve several staff members, an automated return reduces the time and manpower significantly.
What Industries Use a Robotic Automation Process?
Robotic process automation can be used across a variety of industries. These include:
Financial institutions
Financial institutions can use robotic process automation to reduce the number of repetitive tasks performed by employees, such as data transfer and entry.
Healthcare
Healthcare institutions can utilize RPA to automate processes involving insurance, patient records, and billing, among others.
Insurance firms
 Insurance firms, given their plethora of customer data, can benefit from using RPA to automate processes involving transfer of customer data, processing of claims, etc.
Government facilities
Government facilities can make use of RPA to perform tasks regarding constituent data transfer and many others.
Engineering
Engineering firms and independent engineers alike can make use of RPA to ensure accuracy and consistency with regards to blueprints and formulas.
Software companies
Software companies can utilize robotic process automation in a number of ways, not the least of which is to

run tests

.
Using Ranorex Studio for Robotic Process Automation
Ranorex Studio can be used to implement robotic process automation by creating a test case to serve as your "bot" without adding a validation step. This bot can then be organized into a test suite to serve as a "job." Everything else remains the same as if you were to use it for automated testing, making it an easy transition from RPA to testing or vice-versa.
Why Implement Robotic Process Automation?
Implementing RPA allows you to advance your workflows, optimize the utilization of your resources, and reduce the opportunity for human error while supporting your core business processes.
In fact, RPA was listed as the top "intelligent automation strategy" by Deloitte in 2020 in a survey where respondents also affirmed a 78% current implementation rate and a 16% near-future adoption rate. 
Streamline Workflow
Streamlining workflow is a breeze with robotic process automation. Implementing these automations allows your team to focus its efforts on more complicated tasks, ensuring that pressing, complex processes are attended to with care and simple, repetitive processes are performed without any additional effort.
Reduce Errors
RPA ensures that every single time the task is performed, it is done exactly as it was the time before. This means that you get the ultimate consistency across the board without any room for errors.
Combat Worker Shortages
With certain industries, getting additional workers in a short period of time is not feasible. In the meantime, work piles up, and solutions must be found by management in order to satisfy customers. RPA allows certain processes to be automated to reduce the impact of shortages on the everyday functions of a business.
Meet Compliance Requirements
With RPA, you can be certain that you are meeting compliance requirements. All you have to do is set the bot to do its work in line with any regulations, and you can rest assured that each time the task is performed, it will be compliant.
Outperform Competition
Allowing your team to work on creative and complex tasks allows for innovation and improvement as well as enhanced productivity. This allows your business to outperform your competition in all aspects, including quality and quantity.
Try Our Trusted Robotic Process Automation Software
Ranorex Studio can help you get started with your robotic process automation. To explore our innovative software for yourself, sign up for a free trial today.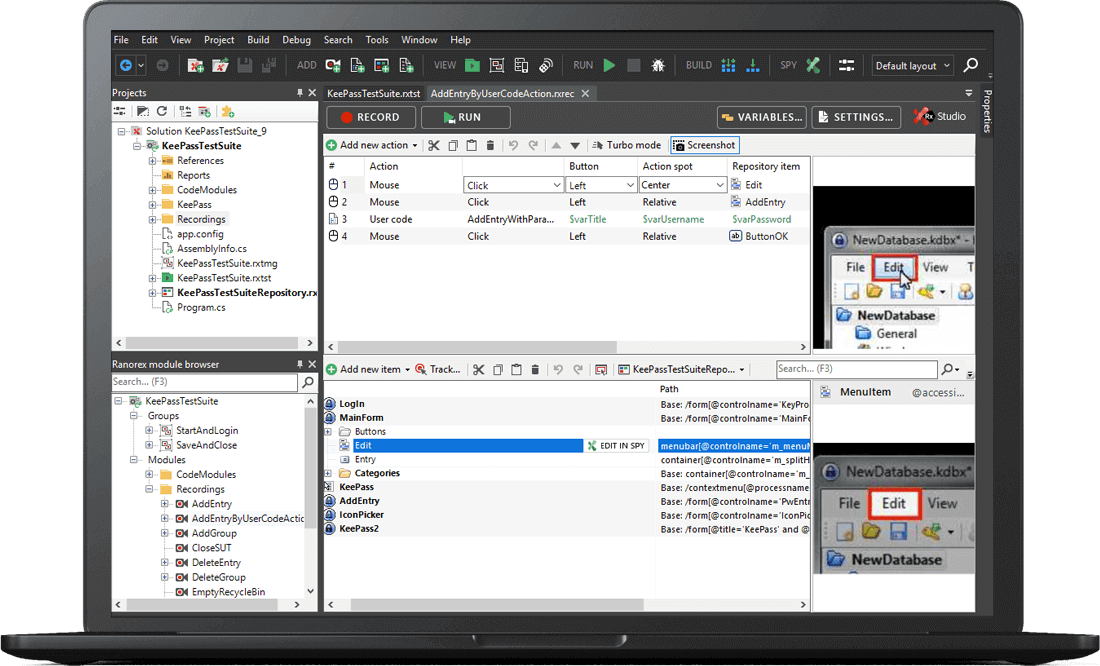 Frequently-Asked Questions (RPA FAQs)
Does RPA Require Coding Knowledge?
With Ranorex Studio, no coding knowledge is required to implement robotic process automations. In fact, you can simply drag and drop automation steps with our action editor and recorder and run automations without any coding at all.
How Do RPA Bots Work?
RPA bots take the place of the human user in robotic process automation. This means that they perform the same actions that you would if you were to perform the task yourself. These bots learn the actions that they are programmed to perform through observation, which means that they watch what you do, learn it, and then mimic it.
What's the Difference Between RPA and Intelligent Automation?
There are several key differences between RPA and intelligent automation. Namely, intelligent automation can analyze data and draw conclusions from it. Because it is capable of interpreting data and making inferences, intelligent automation functions more like a real human than RPA. That said, you can utilize RPA to assist in intelligent automation.
We deliver outstanding customer satisfaction
Reviews from satisfied users help make Ranorex Studio a leader in the G2 Grid for Test Automation Software, year after year.
The G2 Grid for Test Automation Software identifies leading solutions based on market presence and customer satisfaction. To determine market presence, G2 uses a combination of 15 metrics about a vendor and product such as the number of employees, web and social presence, and growth. The customer satisfaction rating is based on an analysis of reviews submitted by real, verified users. Our high customer satisfaction rating contributes to Ranorex Studio's continued position as a leader in the G2 Grid. Ranorex Studio also receives top marks in areas such as ROI, ease of use, and ease of implementation. For more independently-verified research and reviews, visit the Ranorex Studio page at G2 Crowd,TechValidate, or Capterra.
Trusted by over 4000 companies worldwide






Start Selenium Testing with Ranorex Today